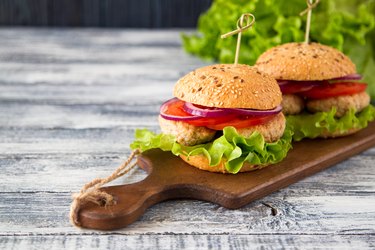 Not having a grill doesn't have to mean that you can't enjoy a nice, juicy burger when you're in the mood for one. Cooking turkey burgers on the stove works just as well as making them on a grill. Follow these steps to make pan-fried turkey burgers on the stove.
Cooking Turkey Burgers on the Stove
LIVESTRONG.com lists a quick and easy recipe for pan-fried turkey burgers. The recipe uses an egg white, for some additional protein.
These are the ingredients you will need to make one serving:
6 ounces of lean, ground turkey
1 tablespoon of chopped onion
1 egg white
A dash of salt and pepper
Don't worry, cooking turkey burgers on the stove is easy. Here's what you need to do:
Combine the ingredients: Combine the ground turkey, chopped onion, egg white, salt and pepper together. Mix them together well.
Pan-fry the turkey burgers on the stove: Use cooking spray to grease a non-stick pan. Place the patties on the pan and pan-fry them on medium heat. Each side should take approximately 5 minutes. The USDA recommends that you use a food thermometer and insert it into the burgers to ensure that the internal temperature of each burger is over 165 degrees Fahrenheit. This helps ensure that there's no bacteria in your food and prevents foodborne illnesses.
Assemble the burger: The USDA suggests serving the burger with lettuce leaves, sliced onions and tomatoes and whole wheat buns to boost your veggie and grain intake for the day. LIVESTRONG.com suggests adding mustard for a kick.
To avoid bacterial contamination, the USDA also suggests a few other measures, like washing your hands with warm, soapy water for 20 seconds and cleaning any surfaces that have come in contact with the meat with hot water and soap. These measures can help prevent cross-contamination, which can occur if the bacteria on the meat gets transferred to the other food, utensils and surfaces of your kitchen.
Turkey Burgers: The Nutrition Facts
So, is your pan-fried turkey burger healthy? This recipe provides 277 calories. It is a good source of protein, since it contains 36 grams, or 1.27 ounces of this nutrient, out of the 5.5 ounces that are recommended per day by the USDA's Dietary Guidelines for Americans for a 2,000-calorie diet.
The turkey burger also has 126 milligrams of cholesterol and 14 grams of fat, of which 9 grams are from unsaturated fats and 4 grams are from saturated fat. In terms of micronutrients, it provides calcium, potassium, sodium, copper, magnesium, phosphorus, selenium and vitamins A and B, per the USDA.
A study published in the June 2015 issue of the journal Food & Nutrition Research found that poultry consumption was linked to a lower risk of obesity, heart disease and diabetes. The study also notes that white meat, poultry in particular, may help reduce your risk of cancer.