If you're primed for a juicy turkey burger, don't let a lack of a barbecue or a grill deter you. Turkey burgers cooked in the oven or in a skillet on the stove top are just as good. Add extra flavor with spices and flavorings, then top the cooked burgers with onions, lettuce and your condiments of choice. For healthy turkey burgers, look for white meat turkey burger that is at least 90-percent lean. A turkey burger made from dark meat often contains high levels of calories and saturated fat.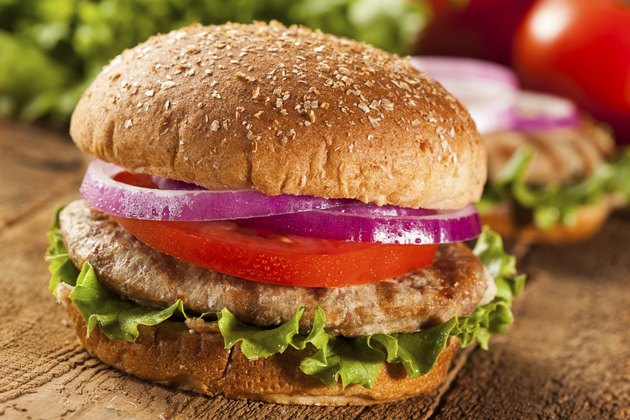 Step 1
Place the turkey burger in a large mixing bowl. Add extras to suit your preferences, as ground turkey made from white meat tends to be drier and less flavorful than ground beef. Add spices such as sage, thyme, chili powder, red pepper flakes, minced garlic or a small amount of hot sauce, mustard or Worcestershire sauce.
Step 2
Mix the turkey burger with a wooden spoon, or with clean hands. If you don't like the stickiness of ground turkey, use a pair of unused kitchen gloves. Mix the ingredients completely, but don't handle the meat more than necessary, as too much handling makes the meat even stickier.
Step 3
Form the turkey burger mixture into evenly-sized patties. Place the patties on a piece of wax paper or plastic wrap until you're ready to cook.
Step 4
Cover the bottom of a heavy skillet with cooking oil, about 1 tbsp. For healthier burgers, use oil such as olive oil or canola oil. Heat the skillet on a burner turned to medium-high.
Step 5
Place burgers in the hot oil. Don't overcrowd them, as you need room to insert a spatula to flip the burgers.
Step 6
Cook each turkey burger until the first side is browned, about two minutes. Flip the burger, then cook the second side.
Step 7
Use a spatula to transfer the turkey burgers to a baking pan. Test the burgers with a meat thermometer. To be safe, the center of each burger must register at least 165 degrees Fahrenheit.
Step 8
Remove the burgers if the thermometer indicates that the meat is done.
Things You'll Need
Turkey burger

Large mixing bowl

Spices and flavorings

Wooden spoon or kitchen gloves

Waxed paper or plastic wrap

Heavy skillet

Cooking oil

Spatula

Baking pan

Meat thermometer
Tip
If the stove-cooked burgers aren't done, place the baking pan in an oven preheated to 350 degrees Fahrenheit. Bake the turkey burgers for extra four or five minutes, or until the temperature reaches 165 degrees. Serve the burgers hot.