Spelt is a grain that is descended from wheat, and it has a mild, nutty flavor that is comparable to wheat. Although spelt contains gluten, it has less than whole wheat or white flour. As a result, substituting spelt flour for white flour can make baked goods more digestible for people with a sensitivity to gluten.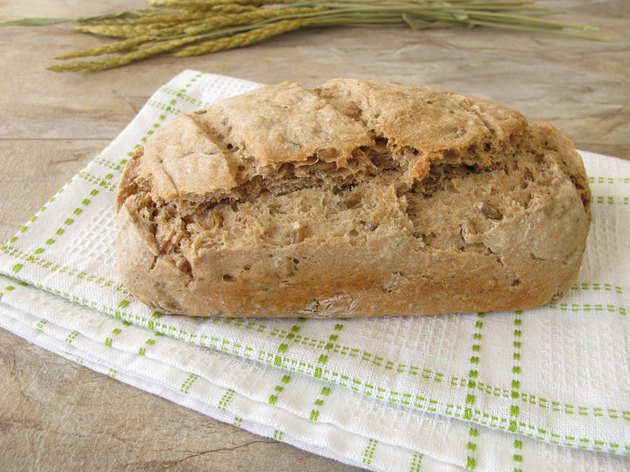 Substituting
Spelt flour substitutes for white flour in equal proportions. For example, if the recipe calls for 2 cups of white flour, add 2 cups of spelt flour instead. For a baked good that tastes similar to one made with white flour, add half white spelt flour and half whole-grain spelt flour. Whole-grain spelt flour is typically labelled "spelt flour," whereas white spelt flour is labeled "white spelt flour." White spelt flour contributes to a more refined, less nutty, flavor.
Mixing
Add the other ingredients in the amounts and order specified by the recipe. Spelt flour does not affect the proportions of the other ingredients. Some bakers make adjustments for the nuttier flavor of the spelt flour in breads and muffins by adding herbs to the dough, such as basil or rosemary. Add the herbs to taste and mix them in thoroughly to distribute them evenly. Refrain from adding more sugar in pastries made with spelt flour. The additional sugar may affect how the pastry rises.
Kneading
The dough may be denser and stiffer than dough made with white flour, but this is normal. Add additional water, 1 tablespoon at a time, if the dough appears powdery or is too stiff to work with. Work the water in as you knead the dough. Knead the dough until the ingredients are well mixed and an elastic ball forms. Do not knead the dough as long as you would dough made with white flour. The gluten in spelt flour is more fragile, and over-kneading it may affect the texture of the final product.
Rising and Baking
Dough made with spelt flour needs the same amount of rising time as dough made with white flour. Allow the dough to rise as directed by the recipe. Bake the bread, muffins, or other baked good for the amount of time specified by the recipe. The spelt flour will make the baked good denser and less elastic, but undercooking the dough will not lead to a lighter or more elastic baked good. Instead, the insides will be slightly raw and doughy.