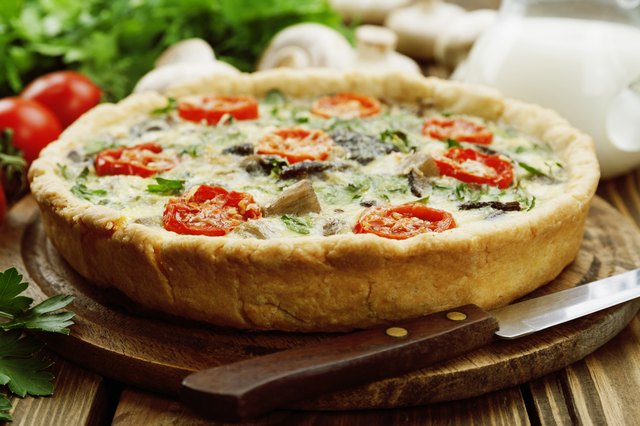 A hearty quiche is handy for entertaining since it can be made in advance and customized to almost any palate. This classic dish is not complicated to make at home, but following the proper method for baking the pastry crust means the difference between a success and a soggy mess.
Quiche 101
Originating in France, quiche is a savory tart with a pastry crust and a custard filling. The filling usually consists of eggs beaten with milk or cream. Crème fraiche is a frequent addition to the egg base. Other ingredients may vary, but one of the most famous recipes is quiche Lorraine with bacon and cheese. Quiche may be served any time of day, as an entree or in bite-size servings as hors d'oeuvre.
Filling Facts
When a pie or tart filling is very wet, the crust must be prebaked before it is filled. This technique is called "blind baking," and it prevents the crust from becoming soggy. Quiche is one example of a tart that requires a prebaked shell because the custard filling is liquid in its raw state. It is also necessary to blind bake in cases when the filling should not cook in the oven, such as the filling for a coconut cream pie.
Going Blind
To bake blind, fit the pastry dough into the pan and then cover it with parchment paper or foil. Fill the lined shell with dried beans or uncooked rice. This step will force the dough to lie flat against the pan as it bakes. Bake at 400 degrees Fahrenheit for 15 minutes, lift the beans or rice out with the liner, and finish baking for another 15 minutes until the dough is cooked through and golden brown.
Seal the Deal
To guard against leaks, seal any minor cracks by brushing the baked crust with a thin layer of beaten egg and returning it to the oven for 5 minutes. Sprinkle the solid ingredients for the quiche filling in the shell before pouring in the egg mixture for even distribution. Finish baking the filled quiche with the tart pan set in a rimmed baking sheet, in case any filling spills out of the shell.