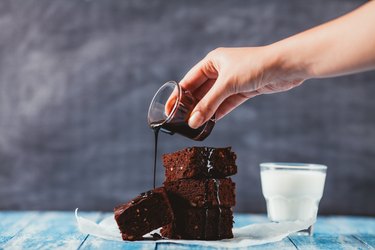 Whether you have an egg allergy, looking to cut back on saturated fat or simply want to swap eggs in your brownie recipe, you're in luck. You can easily substitute the binding agent in your baked goods with an ingredient you likely already have stocked in your kitchen!
Ready to bake some egg-free, fudgy brownies from scratch? Claudia Sidoti, head chef at HelloFresh, has a winning recipe for you. You won't even notice that the eggs are missing!
Egg-Free Brownie Ingredients
3/4 cup all-purpose flour
1 cup white sugar
1/4 teaspoon salt
2 teaspoons baking powder
1/3 cup unsweetened cocoa powder
1 stick unsalted butter
1.5 teaspoons pure vanilla extract
Optional toppings: Chocolate chips, nuts, berries, coconut flakes, etc.

Egg alternative: Choose one egg alternative of choice from the list below.
Egg Substitute For Fudgy Brownies
There are plenty of egg alternatives Sidoti recommends. Keep in mind that eggs are binding agents, so you'll need something that can hold the brownies together. The following options be used as an egg substitute for your next no-egg brownie batch (pick just one — not all five!):
1/4 cup unsweetened applesauce
1/4 cup mashed banana
1/4 cup mashed avocado
3 tablepoons nut butter
1/4 cup plain yogurt
How to Bake Egg-Free Brownies
Preheat oven: Once you've gathered all of the ingredients, preheat your oven to 350° Fahrenheit. Spray an 8x8 baking pan with nonstick spray and line it with parchment paper.
Melt butter: In a microwave or on the stovetop, melt a stick of butter. Then, allow the butter to cool.
Mix dry ingredients: Mix your all-purpose flour, sugar, salt and baking powder in a medium bowl. Sift in the cocoa powder and mix thoroughly.
Mix wet ingredients: In a small bowl, add your melted butter, applesauce and vanilla extract. Whisk until the ingredients are well mixed.
Combine ingredients: Combine the dry flour mixture with your binding agent of choice. Mix the batter well but don't overdo it. Add your toppings.
Bake your brownies: Pour the batter into the pan and bake for 35 to 40 minutes. The brownies should be done when you can insert a toothpick and pull it out clean. Let the brownies cool before cutting. Enjoy!