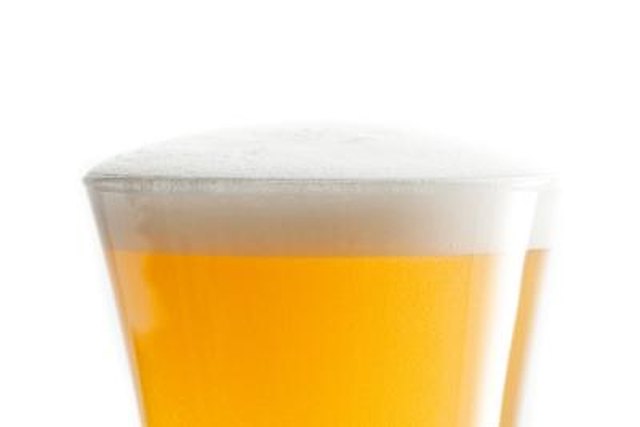 If you like to end your day with an ice cold beer and are also trying to lose weight, that cold beverage may also chill the results of your diet. While drinking beer won't automatically make you fat, various factors related to beer may increase your risk of experiencing unwanted weight gain.
Reduced Fat Burning
If you didn't drink beer, your liver would work hard at metabolizing and burning fat cells, which helps maintain or lower your existing weight. However, when you drink your beer, your liver has to switch gears to metabolize the alcohol instead. This creates what Columbia University calls "fat sparing," or a buildup of fatty acids as your liver processes the calories in the alcohol first, sparing the fat from being metabolized.
Increased Caloric Intake
It's a law of nature: you'll gain weight if you don't burn all the calories that you consume on a daily basis. And a single bottle or can of beer can contain a lot of empty calories. The average regular beer has 146 calories and more than 13 g of carbohydrates, while a light beer typically has 99 calories and just under 5 g of carbs, reports Dr. David Hanson at the State University of New York at Potsdam. However, in a non-scientific survey, "Men's Fitness" magazine found many beers contain as much as 200 calories in a single serving. All these calories are deceptively easy to consume and can lead to a steady weight gain if you don't diet or increase your exercise.
Increased Appetite
If you find yourself craving food after a couple rounds of beer at your neighborhood pub, you're not imagining it. Beer and other alcoholic beverages stimulate the appetite. All this snacking and eating can lead to weight gain that is indirectly related to the beer itself. Additionally, the alcohol in beer may lower your inhibitions, causing you to eat foods that you wouldn't normally eat or cause you to stray further from your diet than you may have planned.
Evidence from Studies
While the "beer belly" is often related to other factors, such as the food you eat while also drinking beer, a general correlation can be seen between weight gain and beer consumption. In a 2009 study published in the "European Journal of Clinical Nutrition," researchers analyzed 12,749 women and 7,876 men and found significant weight associations between beer-drinking men compared with their abstaining counterparts, with the former having a 17 percent higher risk of gaining weight than the latter. However, the statistical differences for women were not significant.