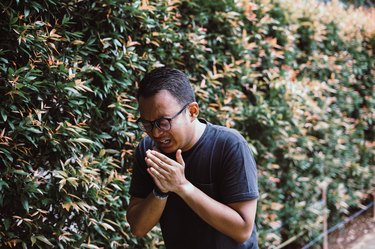 You might find it surprising that small growths can occur almost anywhere inside the body, including on a lung. Often, such growths, called lung nodules, are only detected when you have a test for something else. Here's what you need to know about how serious they could be.
Size Matters
Typically, a lung nodule is a small growth in the tissue of the lung, smaller than 3 centimeters, or just over an inch, according to the Cleveland Clinic.
"Far from rare, lung nodules can be found on about one out of every 100 CT scans of the chest," says Farhan Khabaz, MD, a pulmonologist and intensivist at the St. Jude Medical Center in Fullerton, California. Nodules are spotted on a fraction of lung X-rays and on up to half of all CT scans, says Cleveland Clinic.
Approximately 90 percent of lung nodules under 2 centimeters are benign, meaning they're not cancer, Cleveland Clinic points out. They can be caused by scarring, infection or disease-causing inflammation.
When nodules are bigger, there's greater cause for concern. In fact, a nodule that's larger than 3 centimeters is called a pulmonary mass, and the chances of it being cancerous are higher, states Cleveland Clinic.
"While there are typically no symptoms, in some cases lung nodules can cause shortness of breath, coughing or respiratory infections if located near a major airway," Dr. Khabaz says. "Even when pulmonary nodules are malignant (cancerous), there are often no symptoms until the cancer is advanced."
Nodules are more common in smokers than nonsmokers. Not surprisingly, if you smoke, one way to help prevent nodules is to quit. "In over half of smokers, nodules are evident in imaging," says Dr. Khabaz. "New screening recommendations call for routine, low-dose CT scans of current or former heavy smokers in an effort to catch malignant nodules while they are still small and curable."
Causes of Lung Nodules
Many different diseases can lead to a lung nodule, and not all of them are life-threatening or even dangerous. They include:
Autoimmune diseases. Several autoimmune diseases, such as rheumatoid arthritis, rheumatoid lung disease and lupus, for example, can cause benign nodules on the lungs, according to Brigham and Women's Hospital. Nodules can be just one of many effects on the lungs, along with scarring and "pleural effusion," which is commonly called water on the lungs—an accumulation of fluid around the lining of the lungs.
Infections. An infection can cause lung nodules, even after the infection itself is gone. The University of Texas (UT) Southwestern Medical Center reports that bacterial infections such as tuberculosis and fungal infections such as histoplasmosis can cause scarring that leads to nodules. Bacterial abscesses or a history of pneumonia or other lung disease can also result in the formation of a nodule.
Cancer. Cleveland Clinic notes that the types of malignant nodules include lymphoma, carcinoid and sarcoma. Growths can stem from primary lung cancer, meaning the lung was the first place the cancer appeared, or secondary lung cancer, meaning the cancer originated elsewhere in the body and spread to the lung.
Cancerous nodules grow quickly, often doubling in size within as few as four months. Cancerous nodules also have more irregular shapes, rougher surfaces and color variations and often form in the upper lobes of the lung, according to an August 2019 Annals of Translation Medicine report.
Neoplasms and vascular abnormalities. Diseases or malformations of the blood vessels in the lungs can lead to pulmonary nodules, according to the Cleveland Clinic. Neoplasms are another potential source of lung nodules. These abnormal growths can be benign or malignant. Benign neoplasms include:
Fibromas, which are made up of fibrous connective tissue.
Hamartomas, which are made up of normal tissue in an abnormal arrangement.
Neurofibromas, which are made up of nerve tissue.
Blastomas, which are made up of immature cells.
Treating Lung Nodules
Benign nodules do not typically require treatment. However, if you have an infection, you'll likely get treatment specific to the symptoms you're experiencing.
Malignant nodules should be removed if possible, advises the Cleveland Clinic. The same is true for suspicious lung nodules that can't be confirmed as benign.
Is this an emergency? If you are experiencing serious medical symptoms, please see the National Library of Medicine's list of signs you need emergency medical attention or call 911.