Your circulatory system consists of your heart, blood vessels and blood, and is responsible for transporting life-giving oxygen throughout your body. When you exercise, your body's need for oxygen increases; the harder you work out, the more oxygen your body demands. To ensure that sufficient oxygen is available for your muscles during activity, your body makes short- and long-term changes.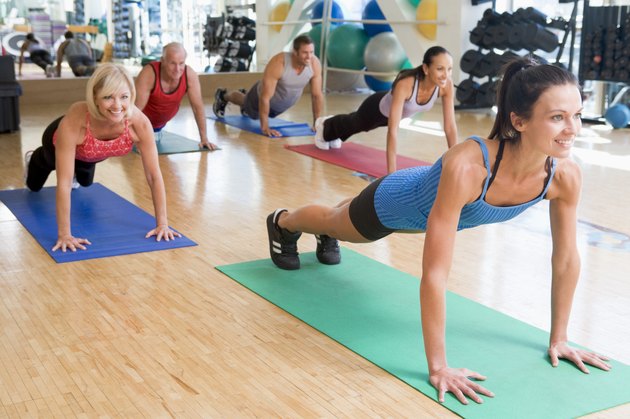 Exercise and Your Heart
Your heart -- referred to as the myocardium, meaning heart muscle -- is a four-chambered pump about the size of your fist, located slightly left of center in your chest. Its job is to pump blood. When you exercise, your heart rate can increase from a resting average of 72 to 200 beats per minute, depending on your fitness level and age. As you get fitter, your heart becomes stronger and your resting heart rate decreases.
Exercise and Your Blood Vessels
Blood vessels carry blood throughout your body. Arteries take blood away from your heart; veins return blood to your heart, and capillaries drop off and collect blood at your muscles and lungs. As you exercise, the hormone adrenalin causes your blood vessels to expand to allow passage of a greater-than-normal volume of blood. This is called vasodilation, which is a short-term response to exercise and is one of the reasons your surface blood vessels may become more prominent during exercise. A long-term response to exercise is the building of new capillaries so more oxygen can be delivered to, and more carbon dioxide can be removed from, your working muscles.
Blood Pooling
When you exercise, blood is diverted from non-essential organs, such as those involved with your digestive and reproductive systems, and into your working muscles. This is termed blood pooling and ensures that your working muscles get as much oxygen as they need. Once you have finished your strenuous exercise, it is important to encourage the pooled blood to move out of the muscles and back into general circulation. This is commonly achieved by performing a cool-down consisting of light cardiovascular exercise and stretching. Blood left pooling in muscles is linked to the onset of post-exercise muscle soreness.
Exercise and Your Blood
Your blood contains three different types of cells: white blood cells that fight infection, platelets that aid in clotting and red blood cells that transport oxygen. These cells are suspended in a liquid called plasma which is predominately water. While you exercise, your red blood cells become saturated with oxygen in an effort to ensure that enough oxygen is available for your muscles. As a long-term benefit of exercise, your red blood cell count increases as you get fitter so you are better able to transport greater amounts of oxygen throughout your body.