Also known as diuretics, water pills are a medication that induces diuresis -- the need to urinate. Because almost two-thirds of your body is water, taking a water pill can help you lose weight quickly and reduce bloating due to your diet or a medical condition. Water pills are available via prescription or over the counter. When taken as directed, water pills can be a way to reduce unpleasant symptoms. If water pills are abused, however, they can affect your health.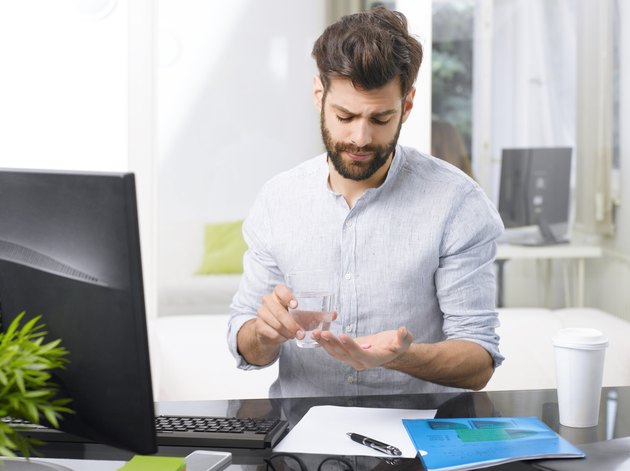 Prescription Needs
If you have certain medical conditions, taking water pills can help reduce adverse symptoms, making them a healthy choice for you. Physicians often prescribe diuretics to treat conditions like heart failure, abnormal water retention, kidney disorders, diabetes, osteoporosis or polycystic ovary disease. If you follow the directions on your medication, taking diuretics can reduce swelling and other unpleasant symptoms while helping maintain healthy water levels in your body. You may need to make some other lifestyle choices, including reducing your daily sodium intake because sodium can increase water retention.
Patient Population Abuse
Two types of patients are most likely to abuse water pills: those with eating disorders and athletes. Those with eating disorders can take water pills in larger amounts because the added urination can equal temporary weight loss. Athletes also may abuse water pills as a means to reduce the amount of banned substances in their body. For this reason, athletes are often tested for diuretic use in addition to banned substances.
Long-Term Effects
If you currently take high-strength prescription diuretics or exceed the recommended daily intake of over-the-counter intake, you could be making an unhealthy choice. Diuretics act on the kidneys, and routinely altering kidney function could lead to kidney damage. Loss of potassium also can cause heart palpitations or an irregular heartbeat, which can weaken your heart muscle. If you suspect you or someone you know has a diuretic abuse problem, see your physician.
Side Effects
Water pills are generally considered safe, according to the Mayo Clinic. However, they can lead to side effects in some people. This includes dizziness, headaches, increased thirst, muscle cramping or a rash. In rare instances, water pill usage can cause more severe symptoms like impotence, irregular periods and breast enlargement in men. Increased urination also can reduce the amount of potassium in your blood, which can make you feel weak and affect muscle performance. If your side effects are serious, talk to your physician about possibly switching your diuretic pill type. Your physician also may recommend taking a potassium supplement or potassium blocker to prevent the loss of this mineral via your urine.