When corn on the cob, the traditional summertime favorite, is not in season, you can still enjoy the same sweet corn by conveniently opening a can. Fresh and canned corn have similar nutritional benefits, which include antioxidants, carbs, protein and fiber. However, some disadvantages of eating sweet corn might arise from overindulging, causing you to experience gastrointestinal discomfort.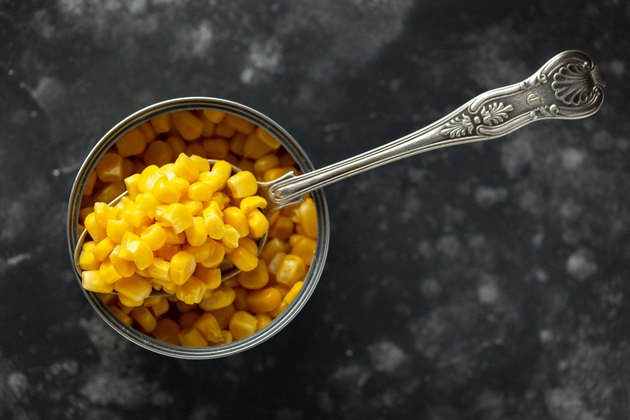 Source of Calories in Corn
Canned sweet corn supplies 67 calories per 100 grams. A 100-gram serving of corn is equal to about 2/3 of a cup or half of a can of corn.
Your body needs calories to provide the energy for many metabolic functions. Dietary Guidelines recommends 1,600 to 2,400 calories per day for adult women and 2,000 to 3,000 for men, depending on age.
Fat Content of Corn
Of the total calorie content in 100 grams of sweet, canned corn, 15 percent comes from dietary fat. You should consume 20 to 35 percent of your daily calories from fat, and a serving of sweet corn supplies about 2 percent — with 1.2 grams. Of that fat, 1 percent is saturated fat. Sweet corn does not contain cholesterol.
Carbs in Corn
The highest source of calories in sweet corn is from carbohydrates, at 76 percent. The carbs in corn are healthy complex carbohydrates that benefit your body by providing fuel for your brain, heart, kidneys and nervous system_._ The USDA recommends that you consume at least 130 grams of carbohydrates every day. Sweet corn offers 14 grams of total carbs per 100 grams, or about 5 percent of your daily value (DV).
Keeps Your Digestive System Healthy
Sweet Corn Is Naturally Sweet
Canned sweet corn contains 4.5 grams of sugar in each 100-gram serving. That's less sugar than some other vegetables, such as canned beets, which have 5.5 grams. The sugar in corn is a natural form. Unlike refined sugar, such as white table sugar, your body can easily convert natural sugar from corn into glucose to use for energy.
Vitamin Benefits of Canned Corn
Each 100-gram serving of canned sweet corn contains a wealth of vitamins beneficial to good health. Corn contains almost all the B vitamins. Required for energy production, these water-soluble vitamins provide fuel for the proper functioning of your heart, cells, muscles and brain.
The importance of vitamin B for its active role in brain function is demonstrated by each vitamin's ability to be transported across the blood-brain barrier where it carries out the active role in neurochemical synthesis, according to a review published in Nutrients in 2016. The quantities of each of the B vitamins in a 100-gram serving of sweet corn are:
Folate, 36 micrograms
Niacin, 1 milligram or 6 percent DV
Pantothenic acid, 0.2 milligram or 2 percent DV
Riboflavin, 0.09 milligram or 5 percent DV
Thiamine, 0.04 milligram or 3 percent DV
Vitamin B6, 0.04 milligram or 2 percent DV
Sweet corn contains important antioxidants that help reduce your risk of chronic disease. Antioxidants protect your body from damaging harmful oxygen molecules called free radicals. Free radicals are byproducts formed by normal body metabolism such as digestion, but they may also come from pollutants in the air. The vitamins that act as antioxidants in sweet corn, per 100 grams, are:
Vitamin C, 1.8 milligrams or 3 percent DV
Beta carotene (precursor of retinal, the active form of vitamin A), 14 micrograms
Mineral Benefits of Canned Corn
Eating a half-can serving of sweet corn has many benefits for your overall well-being from the abundance of minerals it offers, including:
Phosphorus, 46 milligrams or 5 percent DV
Magnesium, 13 milligrams or 3 percent DV
Potassium, 132 milligrams or 3 percent DV
Manganese, 0.07 milligram or 3 percent DV
Copper, 0.04 milligram or 2 percent DV
Iron, 0.27 milligram or 2 percent DV
Zinc, 0.32 milligram or 2 percent DV
Selenium, 0.6 microgram or 1 percent DV
Watch the Salt
Canned sweet corn is high in sodium and contains 9 percent of your DV with 205 milligrams per 100-gram serving.
Sodium is necessary in your diet to help regulate your body's fluid balance. It plays a role in transmitting nerve impulses and maintaining muscle function. However, too much sodium can contribute to certain health issues.
The American Heart Association says limiting your salt intake to less than 2,300 milligrams per day can help reduce your risk of kidney disease, stomach cancer, osteoporosis and heart conditions, including heart attack, stroke and heart failure.
Side effect: One of the disadvantages of eating sweet corn is the effect the sodium content may have on your heart. Too much sodium in your bloodstream pulls water into your blood vessels, which increases their volume and subsequently may increase blood pressure. Long-term high blood pressure can injure blood vessel walls and force the heart to work harder.
Contributes to Eye Health
Sweet corn is loaded with lutein and zeaxanthin, responsible for the characteristic yellow color of the kernels. Since your body cannot synthesize lutein and zeaxanthin, they must be supplied by your diet.
These two phytochemicals are specifically accumulated in the retina, protecting your eyes from blue light damage and helping you see clearly. A 2015 study published in Archives of Biochemistry and Biophysics reported that, compared to most sources, yellow sweet corn is a particularly good source of zeaxanthin.
To evaluate the association of lutein and zeaxanthin on eye health, yellow sweet corn was used in a cohort study in 2017. The findings, published in Nutrients, determined that food containing lutein and zeaxanthin, such as corn, may prevent or delay the progression of macular degeneration, which is the leading cause of blindness.
Helps Maintain a Healthy Weight
Corn Allergy
Canned sweet corn is naturally gluten free, so it's safe if you're sensitive to wheat or have celiac disease.
Side effect: Although uncommon, an allergy to corn can develop if your immune system overreacts to a protein in corn or a corn-derived product. Some symptoms of a corn allergy, which can range from mild to severe, could include:
Vomiting
Stomach cramps
Indigestion
Diarrhea
Wheezing
Shortness of breath, difficulty breathing
Repetitive cough
Tightness in throat, hoarse voice
Weak pulse
Pale or blue coloring of the skin
Hives
Swelling, either of the tongue and/or lips
Dizziness
Confusion
Cans and Canned Corn
A side effect from canned corn may be the result of the can and not the corn.
A widely used toxic chemical — bisphenol A — known as BPA has been linked to health concerns, including diabetes, obesity, heart disease and cancer. Despite the health hazard, BPA is still used in food cans in America. The Center for Environmental Health (CEH) cites a USDA warning that toxins in can linings can migrate to the food inside.
The CEH study in 2017 analyzed various cans from major retail chains and found 38 percent of cans tested used BPA and another 19 percent used linings containing PVC, a toxic substitute.
CEH cites that the National Institute for Occupational Safety and Health reports BPA exposure causes both reproductive disorders and genetic damage in lab studies using animals. In addition, findings were that early-life BPA exposures may increase the risk of breast cancer.