Many diet plans promise quick and easy weight-loss. Many of these diets are fad diets that are not sustainable for long-term success and may lead to serious health consequences. A three-day peanut butter diet may be considered a spin-off of the Three Day Diet, which focuses on adding peanut butter to help jump-start weight-loss. Although there is no one food or diet plan that can guarantee weight loss, this diet may help with efforts as it is low in calories overall. It is essential to consult with a physician before initiating this or any other diet plan.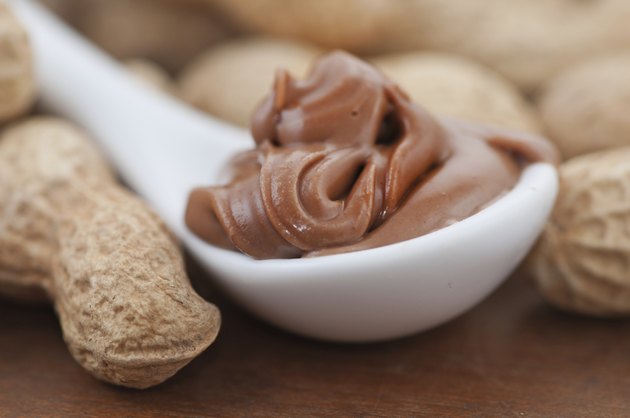 Three Day Diet
The Three Day Diet is a specific diet plan that restricts caloric intake to achieve weight loss of up to 10 lbs. over the course of three days. There is no specific book or supported evidence documented for this diet. It is believed weight-loss is due to low carbohydrate intake which leads to loss of water weight since carbs tend to hold onto water in the body. When you resume normal eating habits or increase carbohydrate and calorie intake, weight will increase again.
Peanut Butter Diet
A three-day peanut butter diet may be an extension of The Peanut Butter Diet condensed in a shorter time frame. According to Sunland, a peanut butter manufacturer, the Peanut Butter Diet is a five-day eating plan that allows for a daily 4 to 6 tbsp. of peanut butter daily. The low-calorie diet has 35 percent of its daily calories coming from healthier monounsaturated fats, such as peanut butter. Despite its high fat content, weight loss is probable given that calories are maxed out at 1,500 for women and 2,200 for men. When calories taken in are less than those burned off, weight-loss is inevitable, barring other factors such as medical conditions or genetics.
Effects of Peanut Butter
According to Sunland, a study conducted by Brigham and Women's Hospital in Boston found that overweight dieters who either ate a lower-fat diet, about 20 percent of fat calories, or a higher-fat diet, about 35 percent of daily caloric intake, both lost equal amounts of weight over six weeks. Furthermore, the dieters who ate peanut butter were twice as likely to stick with the program and maintained their weight-loss for up to 18 months. Researchers attributed their success to the fact that the peanut butter dieters were able to eat something they enjoyed, decreasing the risks of binging or over-eating unhealthy foods from feelings of deprivation.
What To Eat
A three-day peanut butter diet includes three meals a day with a snack or dessert. Typically meals consist of lean protein with vegetables and minimal carbs such as a slice of whole-grain bread or bowl of oatmeal. Peanut butter is incorporated into snacks or with a light meal to help fill you up and satiate your appetite. Incorporate peanut butter into your daily meal plan by spreading 2 tbsp. on half a whole-grain English muffin, stuffing celery sticks with a serving of peanut butter, or blending a milk and banana smoothie with peanut butter for breakfast.