Kashi Go Lean is a cereal marketed to help you lose weight by increasing the amount of fiber and protein you ingest on a daily basis. Kashi Go Lean is made with various grains that contain gluten and is commonly eaten with milk, which can trigger symptoms of gluten and lactose intolerance. Bloating is a common symptom of food intolerance, but it may also be the result of increasing your fiber intake. If you develop symptoms aside from bloating and digestive problems after eating Kashi Go Lean, consult with your doctor.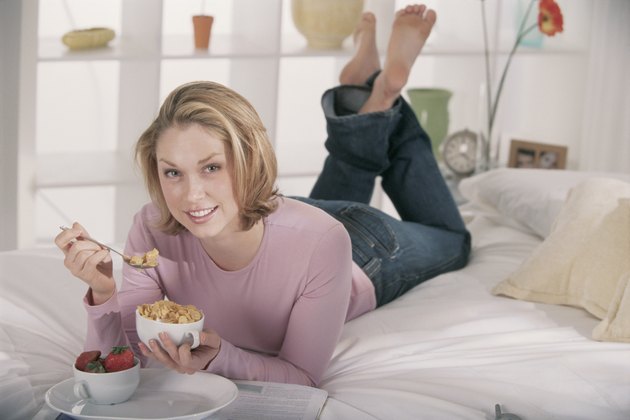 Food Intolerance
Food intolerance is the result of a digestive defect that affects your ability to absorb certain sugars and proteins. A food intolerance is not the same as a food allergy. Food allergies are triggered by your immune system, while a food intolerance is the inability to digest certain foods. According to the American College of Gastroenterology, the most common symptoms of food intolerance are stomach pain, bloating, gas, nausea, diarrhea and stomach cramps. Severe intolerance may cause welts, wheezing, fluid retention, swelling, headaches and rashes.
Gluten Intolerance
Gluten intolerance is also called celiac disease and is triggered by consuming foods that contain gluten. Kashi Go Lean is made with more than one grain that contains gluten, specifically barely, wheat and rye. Gluten is a protein that is safely digested by most people. If you are intolerant of gluten, eating Kashi Go Lean will cause bloating, stomach pain and diarrhea. This condition is a combination of malabsorption and an abnormal reaction to gluten in the small intestines, according to the National Digestive Diseases Information Clearinghouse. When you consume gluten and have celiac disease, the small hair-like particles that line your intestines become damaged, causing further complications.
Lactose Intolerance
You typically eat Kashi Go Lean with milk, which can trigger lactose intolerant symptoms in some individuals. The most common symptoms are bloating, diarrhea and gas. Lactose is a type of sugar found in milk that causes digestive difficulty in some people. If you are lactose intolerant, use a milk substitute, such as soy milk, rice milk or almond milk -- or use lactose-free milk -- when eating Kashi Go Lean.
Fiber Considerations
Kashi Go Lean contains 10 g of fiber per severing, which can cause bloating, gas and stomach pain if you don't normally eat a lot of fiber in your daily diet, according to MedlinePlus. If the bloating is the result of too much fiber, start with a small amount of the cereal and slowly increase the amount of Kashi Go Lean you consume.