When it comes to adding rice to soup, there is no one way to do it. Whether to cook the rice first depends on your recipe, when you want to add the rice and the variety of rice you are using. Ultimately, you want the rice to be done but not cooked so long that it turns your soup into a gummy concoction.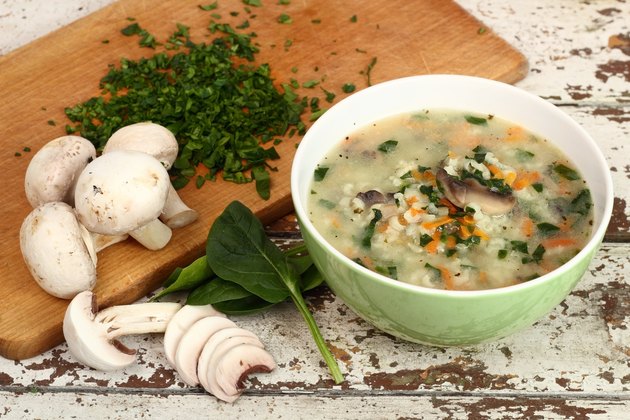 Cooked Rice
If you have cooked rice on hand, add it to soup toward the end of cooking. Simply throw it in when the soup is almost done, usually when the soup is turned down to just a simmer. Allow the rice to cook just long enough to warm it up. The longer you cook the already-cooked rice, the more moist and gummy the rice may become; you want it to retain its firmer texture.
Cooking the Rice
If you prepare a big pot of soup and do not have any cooked rice on hand, throw uncooked grains into the soup when it is at a rolling boil. Reduce the heat to a simmer and allow the rice to cook just until it's tender. Immediately remove the pan from the stove top after the rice reaches the right consistency. Again, cooking the rice too long can give it an unappealing texture.
Types of Rice
Different rice varieties require varying amounts of liquid and cooking times. Make sure the soup has enough liquid to effectively cook the rice. Cook the rice for as long as the variety requires; find this information on the product packaging. Keep in mind the texture you are aiming for. Brown rices have a nuttier, chewier texture, while a white rice is more fluffy.
Other Considerations
The longer rice sits in the soup, the more liquid it absorbs. You may need to add more liquid to the soup if the rice absorbs too much. Instant rice takes much less time to cook than non-instant; understand which variety you are using. Non-instant varieties of rice may take as long as one hour to cook.