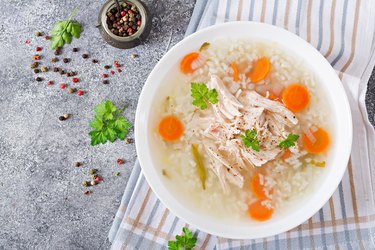 Adding rice to soup makes for a hearty meal. You can add rice already cooked, or uncooked, to soup, but it does affect the recipe. Uncooked rice soaks up liquid, so you'll need a lot more broth or water, and it may extend your soup's cooking time.
Tip
Adding uncooked rice to soup allows your rice to soak up the flavors of your recipe. However, it also requires a greater rice-to-liquid ratio.
When cooking rice on its own, you use a ratio of about two to two and a half parts water to each one part rice — that goes for white or brown rice. The uncooked rice soaks up the liquid to create the edible grain you use as a side dish.
Add already-cooked rice to plain chicken soup for a savory chicken and rice soup. In fact, you can add cooked rice to any broth-based soup that needs a little substance. You can decide how much you want to add to create the right rice to soup ratio, one that meets your personal preference.
If you choose to add cooked rice to soup, add it just before you're ready to serve the dish and give it just a few minutes on the stove top to heat through. Add cooked rice too early and it'll continue to cook in the soup, coming out mushy and unpalatable.
If you add uncooked rice to soup, you have to account for the fact that it will soak up some of your recipe's liquid to hydrate and plump, so you'll need extra liquid. Many recipes call for uncooked rice to be added, and account for the need for more liquid in the recipe. The extra amount of liquid required depends on they type of rice used, explains Fine Cooking.
For example, this recipe for Gingery Asian Tempeh, Broccoli, and Rice Soup calls for uncooked brown rice, but requires 64 ounces of broth to yield 6 servings. In this particular recipe, after the the uncooked brown rice is added, the soup needs at least 35 minutes more to cook, for the flavors to meld, and for the rice to become tender.
Brown rice takes longer to cook than white rice. If you're using white rice instead, give it about 20 minutes at the end of the cooking process to become tender. Overcooking the rice leads to a mushy porridge rather than a satisfying soup.
When you're adding uncooked rice to soup, it makes sense to spoon out the larger ingredients, such as hunks of chicken, carrot or celery, and set them aside as the rice cooks for the 20 to 35 minutes required. This prevents overcooking of vegetables or other ingredients. Return these chunky ingredients once the rice is tender, to blend your soup into a hearty dish.
If you make a large pot of delicious soup with rice and store the leftovers in the fridge, it'll be a thick porridge-like meal the next day. The rice continues to soak up the liquid as it sits, turning the rice mushy and absorbing all liquidity.
If you plan to make a pot of soup with rice to last for future meals, cook the rice separately from the soup. Place a ladle of soup in a bowl over 1/2 cup of cooked rice. Store the broth and cooked rice separately, so you can preserve the texture and taste of the soup when reheated. Adding cooked rice to your serving also allows you to control your rice-to-soup ratio.
The major drawback of cooking rice and soup separately is that the rice doesn't get to soak up the spices and savory flavors of your soup recipe. One way to boost the flavor of the rice is to cook it in broth, so it has flavor but can still be stored apart from the soup.