All carbohydrate-rich foods are likely to have some sort of effect on your blood glucose. Celery contains digestible carbohydrates in the form of sugars, but in very low amounts. Ultimately, the crunchy stalks aren't likely to have drastic effects on your blood glucose. Celery is actually high in a type of carbohydrate that can help keep your overall glucose levels low.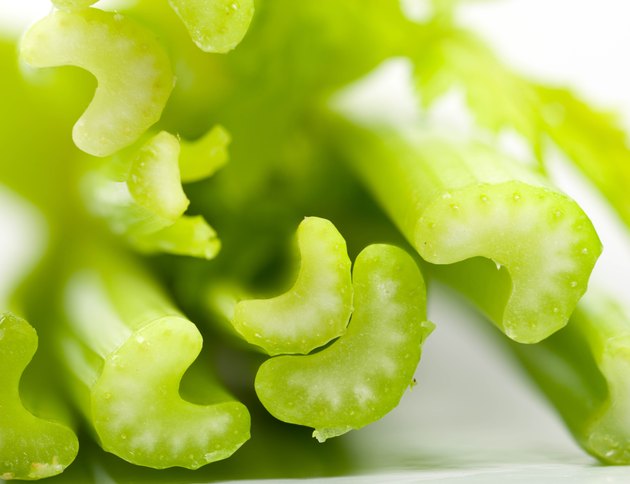 Sugar Processes
Your body can't tell the difference between added sugar in a candy bar and natural sugar from a stalk of celery. All sugars wind up as simple carbohydrate molecules in the form of glucose, which is fuel. Sugars have only a few short branches, and those arms get pulled apart in your small intestine. After they deconstruct and absorb through intestinal walls as glucose, they go into your bloodstream.
Insulin's Role
When glucose hits your blood, insulin gets secreted by your pancreas -- or you have to inject insulin after eating, for diabetes management. Insulin forces glucose into cells to give them the energy they need to work. If glucose isn't needed, insulin allows cells to store the fuel for later. Without adequate insulin, sugar stays circulating in your blood, leaving you with abnormally high blood sugar. Because celery is very low in digestible carbohydrates, it shouldn't raise your blood sugar much, nor should you need to inject insulin if you are diabetic.
Fiber's Effects
Although fiber is a type of carbohydrate, like sugars and starches, it's processed differently. Humans lack the enzyme to fully deconstruct fiber, leaving it primarily intact as it travels through your gut. Although fiber doesn't turn into glucose, it can still affect your blood sugar. Soluble fiber turns into a jelly-like substance when it binds with fluid in your gut. This material slows digestion as a whole, including delaying sugar absorption. As a result, your blood glucose is more likely to stabilize. More than 40 percent of the fiber in celery is soluble, which will help you keep your blood glucose under control.
Your Carbohydrate Allowance
If you're managing pre-diabetes or diabetes, you have to keep track of the carbohydrates you consume at each meal. Generally, you should start out with about 45 to 60 grams of carbs at each meal, the American Diabetes Association recommends. This basic carb recommendation includes both digestible sugar and starch carbohydrates -- the ones that have a direct effect on blood sugar. One 11- to 12-inch celery stalk has nearly 2 grams of carbohydrates. Roughly half of that amount is fiber, leaving you with around 1 gram of sugar. So even if you have several stalks of celery, you'll stay well below your maximum carbohydrate allowance for the day.