Reverse pushups resemble standard pushups, except the exercise is performed on your back, with your arms behind you, instead of in front of your body. Reverse pushups are useful because they work different muscles than standard pushups, focusing on your back, triceps and leg muscles.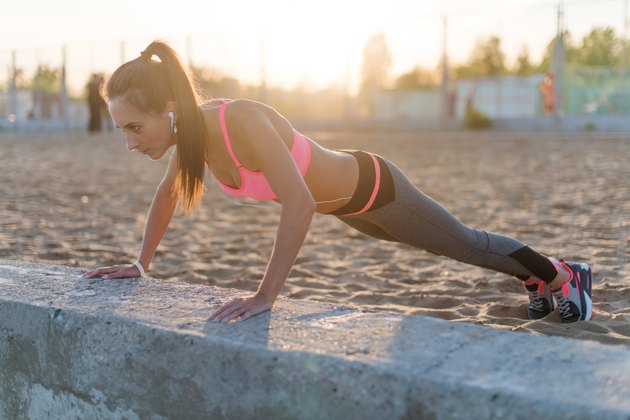 The How-To
Begin on your back with your knees bent and your arms bent, with both hands beside your head. Place your palms flat on the mat, with your fingers pointing toward your feet. Lift your body off the mat, using your arms and legs. Raise your body until your back is arched above the mat and your arms are straight. Your legs are slightly bent. Then slowly lower yourself back onto the mat.
Working the Triceps Muscles
Reverse pushups heavily work the triceps muscles, which are located on the back of the arm. The motion of reverse pushups works the triceps in a similar manner as triceps dips, but the range of motion is slightly different. The triceps muscles are active throughout the movement, starting on the downward phase by supporting your body weight and then helping to push your body up during the up phase of the exercise.
Increasing Shoulder Strength
Reverse pushups increase strength and improve flexibility in the shoulders. The shoulder joint and muscles play an important part throughout the exercise, as they support the body on the way down and help to push you back up. In addition, the shoulders are active and flexed in the top position where you are supporting your body weight.
Working Your Back Muscles
The reverse pushup works the entire back, including the upper and lower back muscles. Standard pushups and many exercises work the upper back -- including the reverse pushup -- during the up phase. However, many exercises fail to work the lower back muscles, which are active during the top, or peak phase of the reverse pushup. Reverse pushups improve flexibility in the spine and back, which is often hard to accomplish during workouts or stretching.
A Better Abdominal Workout
The abdominal muscles receive a better workout with reverse pushups than they do during most exercises. Your abs support the muscles that help to balance the body throughout the reverse pushup exercise, which is normal for the abs in many exercises. However, at the peak position in the reverse pushup, the abdominal muscles are flexed and stretched, which is similar to a reverse crunch action.