As you get older you may have a harder time keeping the weight off. This may be due in part to your declining muscle mass and testosterone levels, according to Berkeley Lab. But gaining control over your diet can help you lose some of those unwanted pounds. Plus, losing weight and eating healthy, even at 60, can improve heart health and increase your lifespan. Consult your doctor before starting any diet plan.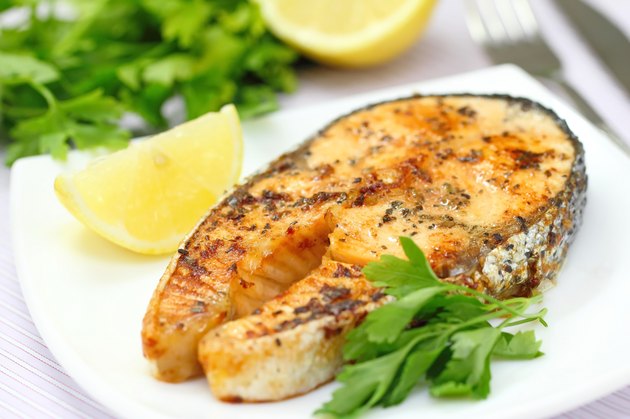 Diet Guide
To lose weight you need to eat fewer calories than you expend each day. The National Heart, Lung and Blood Institute says men can safely lose weight limiting their calorie intake to 1,200 to 1,600 calories a day. Your doctor or a dietitian can help you determine your individual calorie needs. When eating fewer calories, you need to eat a diet that includes mostly nutrient-rich foods. A healthy and balanced 1,600-calorie diet for a 60-year-old man should include 5 ounces of grain, 2 cups of vegetables, 1 1/2 cups of fruit, 3 cups of dairy and 5 ounces of protein.
Start the Day Right
You may think bone health is only an important topic for women, but you also need adequate amounts of calcium and vitamin D to keep your bones healthy and strong. A healthy, bone-building breakfast might include 1 cup of whole-grain cold cereal -- which is considered 1 ounce of grain -- with 1 cup of nonfat milk and 1 cup of sliced strawberries. Or, a high-calcium smoothie made with 1 cup of nonfat vanilla yogurt, 1 cup of mixed fruit such as raspberries and blueberries blended with ice and served with one slice of whole wheat bread.
Healthy Lunch Options
At 60, you need 30 grams of fiber a day. Fiber not only keeps you feeling full, but also improves heart health. Fruit, vegetables, whole-grains and beans are good sources of fiber. A healthy high-fiber lunch meal might include pasta primavera made with 1 cup of whole wheat pasta tossed with 1 cup of cooked broccoli, cauliflower and carrots, 1 1/2 ounces of low-fat mozzarella cheese and 2 ounces of broiled salmon and served with 1 cup of cubed cantaloupe. Or, a turkey sandwich consisting of 2 ounces of sliced turkey breast served on two slices of whole wheat bread with lettuce, tomato and mustard and 2 cups of mixed greens with low-fat salad dressing with an apple and 1 cup of nonfat yogurt.
Meat on the Side at Dinner
Making meat the side dish at dinner not only helps you save on calories, but also helps limit your intake of saturated fat, which is important for heart health. A healthy dinner meal might include 1 cup of brown rice, one-half cup of steamed green beans, 1 cup of mixed greens with low-fat salad dressing and 3 ounces of grilled chicken. Another healthy dinner option is veggie kebabs made with 1 cup of mushrooms, onions and cherry tomatoes with 3 ounces of shrimp and served with 1 cup of whole-grain couscous. Finish your dinner with a cup of nonfat milk or yogurt for your bones.