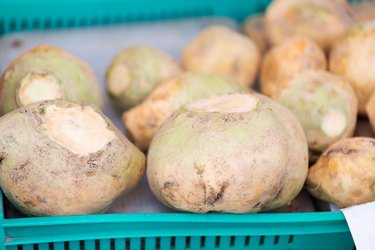 When many people think of turnips, they think of bitter, dry root vegetables that are suitable only as filler for stews or soups. These turnips are bitter and dry because they have been stored too long and aren't fresh. Young turnips have a satisfying, earthy flavor and make a moist, rich side dish when they are slow cooked and mashed with onions and some margarine. The turnips must cook for six to eight hours in your crockpot, but the light, buttery result is fit for any holiday table.
Step 1
Peel 2 lbs. young turnips with a vegetable peeler and cut off the green tops. Cut the turnips into quarters.
Step 2
Place the turnips, onions, salt, pepper and 3 cups water in the crockpot and cook them on low for six to eight hours, or until the turnips are tender.
Step 3
Drain the turnips into a colander and place them in a large bowl. Add the margarine. Use a hand mixer or stand mixer to whip the turnips on a medium setting until they are light and fluffy. Add water 1/4 cup at a time if the turnips are lumpy or dry.
Step 4
Serve the turnips hot with additional salt and pepper to taste.
Things You'll Need
Vegetable peeler

Knife

2 tbsp. minced onion, optional

Salt and pepper to taste

Colander

Large bowl

4 tbsp. margarine

Hand mixer or stand mixer