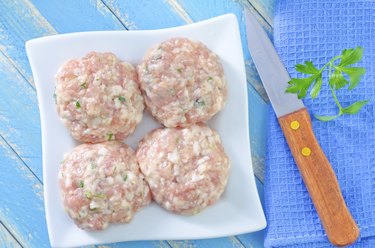 There's no sense mincing words -- chopping poultry into ever-finer pieces for minced chicken can be challenging. If you're truly skillful with a cleaver, by all means do your own mincing by hand. But because poultry flesh puts up more resistance than crispy vegetables, mincing chicken is more challenging than, say, fine-chopping shallots. When in doubt, turn to your trusty food processor to take over the mincing tasks.
Step 1
Rinse chicken pieces under cold running water, then pat them dry with paper towels.
Step 2
Remove the skin, tendons and fat from the chicken pieces. If you are using dark meat or bone-in white meat, cut the flesh away from the bones.
Step 3
Lay the skinned and trimmed chicken pieces on a cutting board. Chop the chicken flesh into 2-inch cubes that are as uniform as possible.
Step 4
Put a few handfuls of the chicken cubes into a food processor. Pulse the chicken in brief bursts until the pieces come to a mince that is either coarse or fine, depending on your preference. Avoid over-processing the chicken to a ground consistency.
Step 5
Repeat with any remaining chicken. Working in small batches ensures an even mince.
Things You'll Need
Paper towels

Cutting board

Cleaver or chef's knife

Food processor with steel blade
Tip
For convenience, skinless and boneless breasts and thighs are your best bet to make minced chicken. Skinning and de-boning raw chicken pieces yourself, however, is often the more economical choice.
Use minced chicken in kebab recipes. A kind of Indian meatball is made by blending minced chicken with breadcrumbs, an egg and spices, then placed on skewers, and baked.
Minced chicken can also be stir-fried rapidly with vegetables, mushrooms, Chinese spices and Chinese sauces, then stuffed into lettuce or cabbage leaves.
Warning
Don't use the same cutting board or knives for other ingredients after you've chopped up chicken. The harmful bacteria in raw chicken can linger on equipment unless it's been washed in hot, soapy water.
Because of the bacteria in raw chicken, it's best to mince chicken last if you'll also be needing the food processor to dice or blend other foods.