Despite what marketers in the supplement industry might want you to believe, there's no magic pill that will make you lose weight. If you're not already following a healthy lifestyle geared toward weight loss, popping a pill won't compensate for unhealthy habits -- at best, it's a waste of money; at worst, it's a health risk. There are bits of evidence to suggest that some diet pills can help women lose weight, however, as long as you make other lifestyle changes to shed pounds. Never take supplements without checking with your doctor first, though -- certain supplements might not be safe if you have an underlying health condition or if you take medication.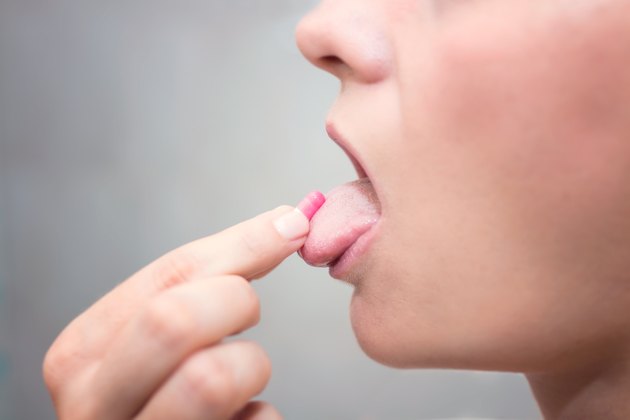 Go for Green Tea
Sipping green tea has long been linked to weight-loss benefits, and pills made from green tea extract might also offer fat-burning benefits for women, according to a study published in Clinical Nutrition in 2015. The researchers studied 115 women suffering from abdominal obesity -- excess weight around their midsection -- to look at the effects of a green tea extra high in EGCG, one of the naturally occurring phytonutrients in green tea. They found that the women who took the EGCG supplement lost more weight, had a greater reduction in waist size and lowered their body mass index more than the women who took a placebo supplement over the course of the 12-week study. The researchers also found that green tea extract affected the levels of certain hunger-controlling hormones, like ghrelin, which might explain how the extract helped women lose weight.
Green tea extract might also boost your calorie burn and affect how dietary fat is digested and absorbed, notes a review published in the European Journal of Clinical Nutrition. However, the review authors note that larger and more comprehensive studies are needed to learn about how well green tea works.
Try Caffeine-Containing Supplements
Supplementing your diet with caffeine might help you lose weight. Caffeine has been studied as a metabolism-booster -- a classic study in the American Journal of Physiology in 1995 found it helped both lean and obese women increase how many calories they burned, which helps with weight loss.
Where caffeine really shines, though, is as a workout-boosting supplement. Even a moderate dose of caffeine boosted athletic performance and strength in jujitsu, in an experiment published in the International Journal of Sports Physiology and Performance in 2015. Another paper, published in the International Journal of Sports Nutrition and Exercise Metabolism, looked at the results of nine previously published studies and determined that caffeine boosts athletic endurance and lowers the rate of perceived exertion during exercise -- how hard you feel like you're working as you work out. Consuming caffeine as a supplement to your regular exercise program might help you work out harder, or work out longer, so you can burn more calories and fat.
Too much caffeine can cause anxiety -- the "jitters" -- or interrupt your sleep, however. Don't take caffeine-containing supplement without checking with your doctor first.
Spice it Up With Capsaicin
Adding a little fire to your fat-burning routine might increase your weight-loss efforts. Capsaicin, the chemical that gives hot foods their spice, is an effective thermogenic, which means it can increase your calorie burn throughout the day, notes a review published in the American Journal of Physiology in 2015. Supplementing with capsaicin might also reduce hunger and control your appetite, as well as act as a natural pain reliever to promote high-quality sleep, which can help you lose weight, according to a review published in the International Journal of Obesity in 2015.
There's no harm in adding spice to your diet or taking cayenne supplements -- as long as you have medical clearance to do so -- but don't rely on it as a magic bullet for weight loss. As the American Journal of Physiology review notes, you might need high doses of capsaicin to get appreciable weight-loss benefits
Lose Weight With Calcium
Calcium is an essential part of any healthy diet, but it's especially important for women -- natural hormone fluctuations that occur during and after menopause leave you at a higher risk of osteoporosis, and you need ample calcium in your diet to promote bone health.
Getting enough calcium might also help you shed pounds. One paper, published in Nutrition Reviews, analyzed the results of seven previously published studies to look at the benefits of calcium supplements on weight loss. They found that taking calcium supplements can modestly boost weight loss but note it's not clear whether the results are significant enough to translate to real, significant weight loss for the general public.
While calcium supplements can help women, you may get more benefits from eating calcium-rich dairy products. Researchers in a 2004 study, published in Obesity Research, compared high- and low-calcium diets on weight loss in 32 obese adults over a 24-week period. Although both groups lost weight -- due to the weight-loss diet they both followed -- the people who got more calcium lost more belly fat and experienced greater overall fat loss compared to the low-calcium group. Including dairy foods seemed to have the most benefit. So add weight-loss-friendly dairy -- like nonfat milk, low-fat cheese and nonfat Greek yogurt -- to your diet to boost fat loss.
Trendier Diet Pills: Green Coffee and Raspberry Ketones
You can hardly turn on the television or flip through a diet magazine without hearing about trendy diet pills, like green coffee extract and raspberry ketones. And while certain health gurus rave about their weight-loss benefits, there isn't yet enough info to back that up.
For example, a 2011 review published in Gastroenterology Research and Practice reports that while some studies have found that green coffee extract boosts weight loss, most of those studies aren't well-designed, so it's impossible to know by how much it really helps. Raspberry ketones require more research as well. One recent study -- published in the Journal of the International Society of Sports Nutrition in 2013 -- found that a supplement containing raspberry ketones helped with weight loss. But the supplement also contained other ingredients -- including caffeine and capsaicin -- so it's impossible to know whether the benefit came from the raspberry ketones.
Always check with a doctor before taking trendy supplements -- she can tell you if they're all hype or if there's real research backing them up.
Weight-Loss Methods for Women That Really Work
While losing weight requires patience and perseverance, the process is simple at its core -- simply eat fewer calories than you burn, and your body will start torching fat for energy, allowing you to lose weight. Eat a balanced diet filled with low-energy-density foods -- foods that have few calories per gram, like fruits, veggies, lean protein and broth-based soups -- as well as healthy whole grains and unsaturated fats. Your calorie restriction will help you lose weight -- as long as you stay above 1,200 calories daily, the minimum requirement for women -- while nutritious foods keep you feeling satisfied and prevent nutrient deficiencies. Add in cardio for more fat burning, as well as strength training for building metabolically active muscle, and you're on your way to a slimmer, toned physique.
Whether you decide to add supplements to your routine is up to you -- your doctor can recommend a supplement, if you need one, that will help you meet your fitness goals.