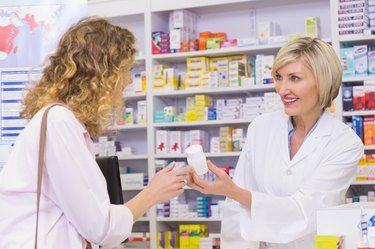 Valtrex, the brand name of the drug valcyclovir, is approved by the U.S. Food and Drug Administration to treat herpes, shingles, chickenpox and cold sores. Although this medication may benefit those who have these conditions, Valtrex can also cause several side effects. Although weight loss is a common side effect of other medications, it is not a common side effect of Valtrex. Because of this, it is unlikely that using Valtrex for weight loss would prove effective.
While Valtrex is intended to treat herpes, shingles, cold sores and chickenpox, doctors may prescribe the medication for other purposes in an act known as off-label prescribing. Doctors prescribe a medication for an off-label purpose when they know that a medication has a common side effect that they believe would benefit their patient. While this practice is common, it is unlikely that a doctor would prescribe Valtrex as a weight-loss aid since weight loss is not a common side effect of the medication. If you are interested in using a medication as a weight-loss aid, explore other options with your doctor.
Although Valtrex does not commonly cause weight loss, this doesn't mean that weight loss never occurs for someone using this medication. Three common side effects of Valtrex include nausea, stomach pain and vomiting. In clinical trials, up to 15 percent of patients experienced nausea, up to 11 percent experienced stomach pain and up to 6 percent experienced vomiting, according to manufacturer GlaxoSmithKline. Individuals who experience these side effects may be less likely to overeat, and therefore may find themselves losing weight. It is impossible, however, to predict which side effects you would experience when taking Valtrex, or if these side effects would increase your chances of losing weight. Because of this, it would be more effective to find another treatment or medication that is specifically intended for weight-loss.
While it is preferable to lose weight through regular exercise and a healthy diet, some people may be unable or unwilling to do so. These people may benefit from a weight-loss medication. These medications are generally intended for people who have health problems because of their weight and people who have been unable to lose weight through other methods. Some medications that are FDA-approved for weight loss include diethylpropion, orlistat and phentermine. While these medications may help you lose weight, they also may cause unpleasant or even serious side effects. Always explore all other weight loss options and research potential risks with your doctor before taking a weight-loss medication.
Although most side effects of Valtrex are harmless or temporary, some side effects can be quite serious. Decreased urination, unexplained skin rashes or blisters, hives, itching, swelling, difficulty breathing or swallowing, wheezing, unusual bleeding or bruising, vision changes, unsteady or shaky movements, unexplained fever, aggressive behavior, confusion, hallucinations, speech problems, tremors or seizures are a few serious side effects that may occur when taking Valtrex. People experiencing these side effects need immediate medical attention. Because this some of these side effects can be dangerous, taking this medication on a regular basis, especially for a condition for which it was not intended, should not be taken lightly.