Yogurt is a fermented milk product. While the pH of milk can range between 6 and 8, the fermentation process yogurt undergoes reduces the pH of yogurt to 4.3 or 4.4. Additional ingredients like citrus fruits and the duration of fermentation can make yogurt even more acidic.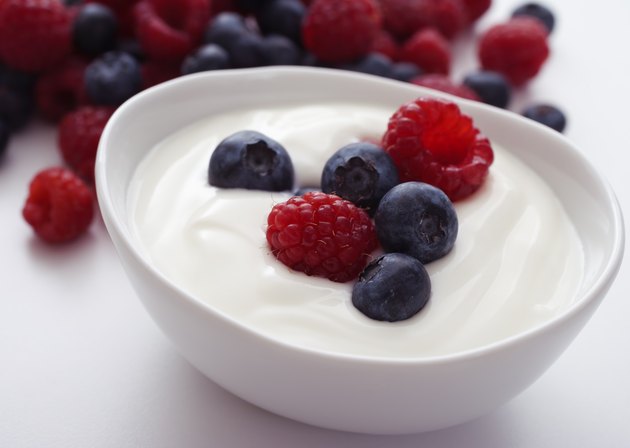 Tip
Acidity and alkalinity are determined using pH. Since yogurt has a pH between 4.3 and 4.4, it is considered to be an acidic food.
What Is pH?
The term pH is used to define the acidity or alkalinity of a solution. The pH scale ranges from zero to 14. The strongest acid would have a pH of zero, while the most basic (also known as alkaline) items would have a pH of 14. Most foods have a pH between about 3 and 8.
Anything with a pH of 7 is considered neutral. Water is an example of a neutral food, but since it can come from a variety of sources (from local springs to your kitchen tap), it's possible to have alkaline water or acidic water. Most water typically has a pH around 7, unless it's been treated to be more alkaline.
The majority of foods people consume have a pH that's less than 7. Foods with a pH between 6.9 and 4.6 are considered low acid foods, while those with a pH less than 4.6 are considered high-acid foods. Since yogurt has a pH between 4.3 and 4.4, it is considered a high-acid food.
The pH of Yogurt
Yogurt generally has a pH between 4.3 and 4.4, but this pH can change depending on the specifics of how the yogurt is made. Basically, yogurt is made by heating and cooling pasteurized milk, then culturing the milk with live bacteria. These bacteria have to include Lactobacillus bulgaricus and Streptococcus thermophilus, but may also include other healthy probiotic bacteria like:
Bifidobacterium bifidum
Bifidobacterium lactis
Bifidobacterium longum
Enterococcus faecium
Lactobacillus acidophilus
Lactobacillus bulgaricus
Lactobacillus casei
Lactobacillus gasseri
Lactobacillus plantarum
Saccharomyces boulardii
Adding bacteria to yogurt is typically the last major step in creating this food product. The fermentation step lasts between four and seven hours but may last longer. It is the duration of this step that determines the flavor of yogurt and its exact pH.
Alkaline Diets and Yogurt
Increase the pH of your urine
Increase intracellular magnesium levels
Increase vitamin D levels
Improve the function of chemotherapeutic agents
Improve potassium-sodium balance
Reduce muscle wasting
Improve bone health
Help prevent cardiovascular diseases
According to a still-cited October 2011 study in the Journal of Environmental and Public Health, alkaline diets may also be able to improve the function of chemotherapeutic agents and improve the potassium-sodium balance. This balance can improve bone health, reduce muscle wasting and prevent cardiovascular diseases.
The benefits of this diet are not definitive, but alkaline diets are generally considered to be healthy for most people.
Milk Products and pH
If you're concerned about the pH of yogurt and its acidity, there are a variety of other healthy milk products that you can consume with a higher pH. The pH of milk on its own is between 6.2 and 7.3, and the pH of cream is around 6.5. Butter also has a higher pH that's much closer to neutral, ranging between 6.1 and 6.4.