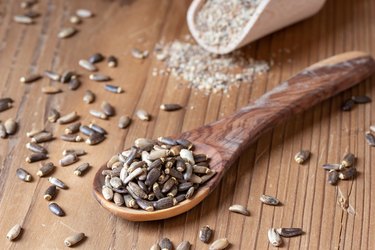 Milk thistle benefits for weight loss are not yet been conclusively proven. According to the University of Rochester Medical Center, milk thistle seeds have been used for centuries to treat liver and gallbladder disease.
What Is Milk Thistle?
Milk thistle is an annual plant with reddish-purple flowers. It comes from Europe and grows in dry, rocky soil.
According to the Mayo Clinic, one of the active ingredients in milk thistle is silymarin, which comes from the plant's seeds. It is a flavonoid that is thought to have antioxidant properties. Milk thistle is sold as a powder, liquid extract, oral capsule and oral tablet.
The University of Rochester Medical Center says the most active group of bioflavonoids in milk thistle seeds is silybin. It's thought that these provide protection from liver damage. It works by stopping toxins and free radicals from attaching to cells in the liver.
Milk thistle has been used to treat a number of conditions including viral hepatitis, alcoholic liver disease, carbon tetrachloride poisoning, cirrhosis and mushroom poisoning.
According to a study published in the December 2013 issue of Natural Product Communications, silymarin's medicinal properties have been studied for the treatment of sepsis, Alzheimer's disease, Parkinson's disease, diabetes, high cholesterol, osteoporosis and cholestasis.
It also has fetoprotective and prolactin effects so it protects against the influence of alcohol and is safe for use during pregnancy and breastfeeding. Further study is needed to confirm that milk thistle's active ingredients are effective to treat these conditions.
Milk Thistle Benefits: Weight Loss?
According to a September 2016 animal study published in Frontiers in Pharmacology, silymarin, the standardized extract of milk thistle seeds, helps treat metabolic dysfunction associated with diet-induced obesity. In the study, six mice were fed a high-fat diet for three months to induce obesity, high cholesterol, fatty liver and insulin resistance.
After this, they were continuously treated with either a high-fat diet alone or mixed with silymarin have 40 milligrams per 100 grams of weight for another six weeks. The study found that insulin resistance, inflammation and cholesterol improved after treatment. The results suggest that silybin is an effective component of silymarin in treating metabolic syndrome.
Unfortunately, to prove milk thistle has benefits for weight loss, additional studies at a larger scale, using human subjects would be necessary.
According to information from the National Center for Biotechnology Information, silymarin and silybin are often used interchangeably but the two have different clinical purposes and have no definitive results in terms of clinical efficacy.
Milk Thistle Precautions
The University of Rochester Medical Center says that milk thistle may cause allergic reactions. You are at a higher risk of milk thistle allergy if you are allergic to other plants in the same family such as daisies, marigolds, chrysanthemums and ragweed.
Using milk thistle may lower your blood sugar levels as well. If you have diabetes or hypoglycemia speak with your doctor before using it. You should also talk with your doctor if you take medications or supplements that affect your blood sugar levels. If you are pregnant or breastfeeding, speak with your doctor before taking any supplements.
Taken in appropriate doses, Mayo Clinic says using milk thistle orally appears to be safe. However, milk thistle side effects may include gastrointestinal issues, headache and itchiness.
There is also some concern that milk thistle may have estrogenic effects meaning that it mimics estrogen in the body. Because of this, if you have breast cancer, ovarian cancer, uterine cancer, uterine fibroids or endometriosis, you may want to consider avoiding milk thistle supplements.
Milk thistle may interact with certain medications such as Valium, warfarin, some antibiotics, diabetes medications and immunosuppressants.