Rather than a cause of diarrhea, coconut water is often used to treat this condition. Americans don't get enough potassium, according to the U.S. Department of Agriculture, and coconut water is at the top of the list of potassium-containing foods, providing 13 percent of your daily potassium needs in an 8-ounce serving. The salty beverage is also chock-full of other important electrolytes that can help your body recover from diarrhea.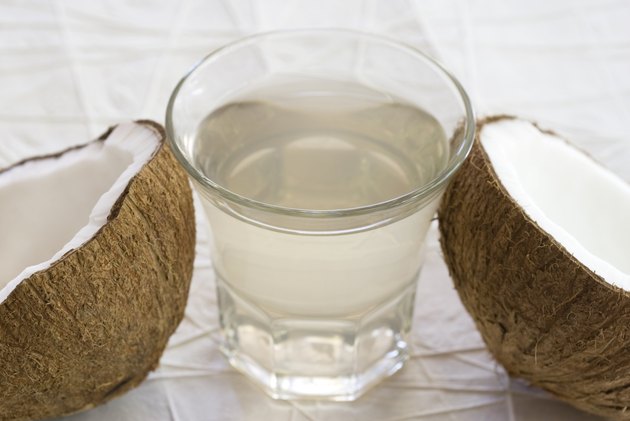 Nature's Sports Drink
Coconut water is a natural source of water and electrolytes, including potassium, sodium, magnesium, phosphorus and calcium. Coconut water rehydrated study subjects as effectively as a commercial sports drink after an hour of dehydrating exercise. The participants did report more abdominal bloating after drinking the coconut water, but they consumed 2 to 2.5 liters of the liquid -- much more than a typical 8-ounce serving. There was no mention of diarrhea in the study, which was published in the "Journal of the International Society of Sports Nutrition" in 2012.
Diarrhea Remedy
Although coconut water doesn't cause diarrhea, it can help prevent dehydration from it. Replacing depleted fluid and electrolytes, such as potassium and sodium, is often the only treatment for diarrhea, states the National Digestive Diseases Information Clearinghouse. If you don't mind the salty taste, you can use coconut water to prevent dehydration during mild bouts of diarrhea, according to the Berkeley Wellness website.