Carbs provide more than half the calories for most Americans, mostly from grain products, starchy vegetables and sugar. They serve as sources of energy, helping your brain function and aiding in athletic performance. Reducing your carb intake can help you lose weight, but a low-carb diet can also cause side effects, including headaches.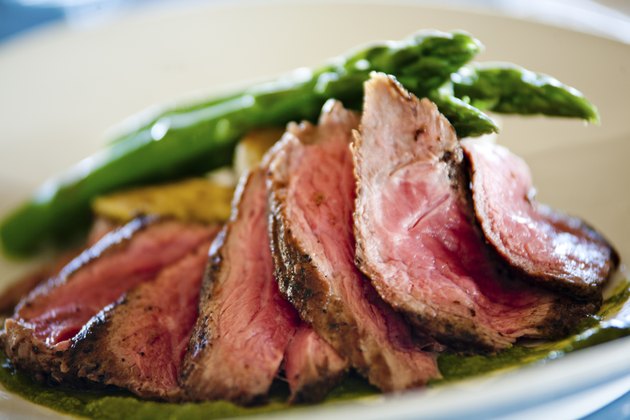 Burning Carbs to Burning Fat
If you used to eat a high-carb diet, which corresponds to the standard American diet, your body had become efficient at using carbohydrates and the sugar derived from their digestion as your main source of fuel. Your muscles, heart and brain mainly relied on carbohydrates for energy, making you a sugar burner. If you eliminate most carbs from your diet by going on a no-carb diet, your body will have to quickly switch to using fat to obtain the energy you need. During this transition period, your body will not be able to get the quick burst of energy it would usually get from carbs. This is why you could temporarily experience fatigue, dizziness or headaches for the first few days or weeks.
Mild Dehydration
Decreasing your carb intake is known to have a diuretic effect, which means you will lose extra water you used to retain in your body. The quick weight loss of the first few days on a no-carb diet is mainly due to water weight loss, and if it happens too fast, you could become slightly dehydrated. The mild dehydration that sometimes accompanies a no-carb diet, especially at the beginning, could be responsible for your headaches.
Carbohydrate Withdrawal
Switching from a high-carb to a no-carb diet can also trigger withdrawal symptoms. Carb-rich foods like breads, pasta, rice, granola bars, cookies, muffins, soft drinks and candies can be addictive for some people. If these foods used to be a big part of your diet, eliminating them cold turkey can be difficult at first. This period is called carbohydrate withdrawal and can result in intense carbohydrate cravings and headaches.
Easing the Transition
The transition from a high-carb to a no-carb diet requires big changes in the way your body operates. Some people find it easier to gradually reduce their carbohydrate intake until they reach their desired carb target. Others prefer a drastic approach, making the switch to fat-burning more rapidly. Whatever your preference, drink a minimum of 64 ounces of water a day, and include plenty of fat in your diet by adding butter, oil, cream, salad dressing, full-fat cheese, avocado and nuts. A no-carb diet must be high in fat to help you become a fat burner and supply you with the energy for your daily activities.