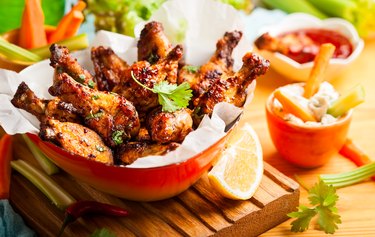 A good chicken wing recipe is a must-have for any successful viewing party or cookout. But no one loves a poorly coated wing — especially if the T-shirt-threatening sauce drips everywhere!
Here, Claudia Sidoti, head chef at HelloFresh, explains how to get the sauce to stick to chicken wings. Then, learn how to cook chicken wings with hot buffalo sauce that will stain your guests' fingers and napkins — not their clothes.
How to Make Sauce Stick to Chicken Wings
You're not the first person to wonder how to make buffalo sauce stick to wings.
The key to getting the sauce to stick to your wings is the flour, Sidoti says.
Before you toss your chicken in sauce, coat them with enough flour or dry mixture (aka a seasonings mixture or dry rub). Make sure to dredge the entire wing before tossing it in your chosen sauce — this will help ensure an even distribution of sauce, too.
How to Make Buffalo Sauce
Homemade buffalo sauce isn't difficult to make. Here's exactly how to make it, according to Sidoti.
Things You'll Need
3 oz. butter

1 garlic clove

1/4 cup hot sauce

1/2 tsp salt

Cayenne pepper

Melt 3 ounces of butter and add one minced garlic clove.
Pour the garlic butter into a large bowl and add 1/4 cup of hot sauce, 1/2 teaspoon of salt, a dash of cayenne pepper and black pepper to taste.
Mix the sauce thoroughly.
How to Make Baked Chicken Wings
Follow this foolproof recipe for perfect, saucy chicken wings every time:
Things You'll Need
Chicken wings


Flour

Vegetable oil

Kosher salt


Black pepper

Dry rub (like jerk seasoning, blackened/barbecue seasoning or southwest seasoning)
‌Preheat your oven:‌ Preheat your oven to 400 degrees Fahrenheit as you begin preparing your wings.
‌Mix the ingredients:‌ Place the oil, flour and seasonings in a large bowl and mix together. Then add the wings, tossing and coating them completely.
‌Bake the wings:‌ Divide the wings evenly on baking sheets. Bake until they are cooked through and the skin is crispy. This should take about 45 minutes.
‌Make your sauce (optional):‌ You can always use store-bought sauce for your wings, but if you want to make your own, use the buffalo sauce recipe above. Remember to mix until well combined.
‌Add sauce to the wings:‌ Add the wings to the sauce in a bowl and toss them to evenly coat. Place the wings on a baking sheet and bake until the glaze appears lightly caramelized, about 8 to 10 minutes.
Tip
Once your wings are covered in sauce and ready to be served, Sidoti recommends coupling your chicken wings with celery, beans, pasta or even potato salad. She also loves serving her wings with a side of roasted potato wedges or onion rings for a real treat.
"Don't forget the ranch, blue cheese and honey mustard," Sidoti says.