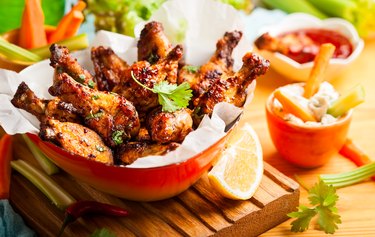 Let's be honest: A good chicken wing recipe is a must-have for any successful viewing party or cookout. But no one loves a poorly coated wing — especially if the T-shirt-threatening sauce drips everywhere!
Luckily, Claudia Sidoti, head chef at HelloFresh, has your back. Learn how to prepare chicken wings with a sauce that will stain your guests' fingers and napkins — not their clothes.
What You'll Need For the Wings
Chicken wings: If you're preparing for a group or party, keep in mind that each person will probably be eating a few!
Vegetable oil: Choose any vegetable oil of your preference.
Flour: You can also use an alternative flour like rice flour.
Kosher salt and black pepper: You can also include other seasonings you like.
Chicken Wing Sauce Ingredients
For oven-roasted wings: A good dry rub like jerk seasoning, blackened or BBQ seasoning or southwest seasoning.
For a traditional sauce: Combine butter with cayenne pepper, black pepper, kosher salt and hot pepper sauce.
How to Make Baked Chicken Wings
Preheat your oven: Preheat your oven to 400° Fahrenheit as you begin preparing your wings.
Mix the ingredients: Place the oil, flour and seasonings in a large bowl and mix it. Then, pop the wings in, tossing and coating them completely.
Bake the wings: Divide the wings evenly between baking sheets. Bake until they are cooked through and the skin is crispy. This should take about 45 minutes.
Prepare the sauce: If you'd like to add sauce for your baked chicken wings, add the wings to the sauce and toss them to evenly coat. Place the wings on a baking sheet and bake until the glaze appears lightly caramelized, about eight to 10 minutes.
How to Make Traditional Fried Wings
Deep-fry the wings: Heat the oil of your choice in a large skillet or deep fryer to about 375° Fahrenheit. Deep-fry the wings in the oil for about 10 minutes.
Season and add sauce: Remove the wings from your skillet and drain them on paper towels. In a separate skillet, melt the butter and stir in the sauce ingredients. Season with salt and pepper to taste.
Coat the wings: Sitr the sauce over low heat, adding the wings and coating them thoroughly.
How to Get Sauce to Stick on Chicken Wings
The key to getting the sauce to stick to your wings is the flour, Sidoti explains. Before you toss your wings in the sauce, be sure to coat them with enough flour or dry mixture. Make sure to dredge the entire wing before tossing it in your chosen sauce. This will help ensure an even distribution of sauce too.
Once your wings are covered in sauce and ready to be served, don't forget to pair them with some side dishes. Sidoti recommends coupling your perfectly coated chicken wings with nachos, macaroni and cheese, celery, beans, pasta or even potato salad. "Don't forget the ranch, blue cheese and honey mustard!" Sidoti also loves serving her wings with a side of roasted potato wedges or onion rings for a real treat.