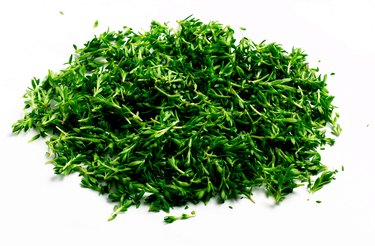 No matter how you look at it, spinach is good nutrition. Each 1/2 cup serving is fat-free, low in calories and sodium and also supplies your body with 50 percent of your daily vitamin C requirement and a healthy dose of fiber. While fresh spinach is often available year-round from your local grocer, you can also purchase it frozen or freeze spinach fresh from your garden for up to eight months. When it comes time to eat, the easiest way to cook frozen spinach, and the best way to preserve its nutritional value, is in your microwave oven.
Step 1
Remove frozen spinach from its freezer packaging and transfer it to a microwave-safe bowl.
Step 2
Pour in 1/4 cup of water for every 10 oz. of frozen spinach.
Step 3
Cover the bowl using a sheet of plastic wrap if your bowl does not already have a cover.
Step 4
Set your microwave to high and cook the frozen spinach for 6 to 7 minutes for 10 oz. of spinach; increase cooking time by half for each addition 10-oz. package.
Step 5
Remove the cover, stir the spinach and continue cooking for another 1 to 2 minutes or until the spinach is hot all the way through.
Step 6
Transfer the cooked spinach to a colander to drain. Press the spinach with a large spoon to remove all the excess liquid.
Things You'll Need
Bowl with cover

Plastic wrap

Spoon
Tip
Cooking frozen spinach by boiling it for 9 to 11 minutes on your stove is another option. However, boiling will lead to a significant reduction in its vitamin C content.