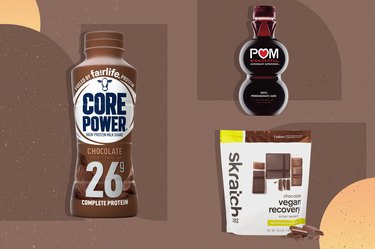 Some days, drinking water post-run just won't cut it — you need a recovery drink.
A recovery drink is designed to rehydrate and refuel the body post-run. "If the run was hard in intensity or long in duration, or if the athlete has a poor appetite post-run, they can benefit from a recovery beverage," says Roxana Ehsani, RD, a board-certified sports dietitian and competitive runner.
But if you're doing a low-intensity run or one shorter than 30 minutes, you can probably make do with water and get your nutrients from your next meal, Ehsani notes.
Each recovery drink may look slightly different, with some providing strictly protein or carbs and others containing a blend. Both nutrients are key for recovery: Carbs help replenish your muscle's glycogen stores (a primary source of energy) and protein helps repair muscle that was damaged during your workouts, Ehsani says.
Check out these five recovery drinks for runners recommended by experts.
We chatted with three registered dietitians who specialize in sports nutrition to get their favorite recovery drinks for runners. They also offered a few pointers on finding and using recovery drinks. Every drink on our list meets the following criteria:
The Best Recovery Drinks for Runners
1. Orgain Organic Nutritional Shake
‌Serving size: ‌11 fluid ounces
‌Calories: ‌250
‌Carbohydrates: ‌28g
‌Protein: ‌16g
‌Fat: ‌8g
‌Sugar: ‌12g
This Orgain shake is ready to drink and shelf-stable (no refrigeration required), making it an easy grab-and-go option. With 250 calories, 28g of carbs and 16g of protein, it'll kick-start your recovery and may even be used as a meal replacement.
The shake also includes 20 different vitamins and minerals and organic fruits and veggies to help you meet your daily nutrition needs.
If you have a dairy allergy, Ehsani suggests checking out Orgain's plant-based shake. "It has pea protein and chia seeds as a protein source," she says.
2. Best Nondairy: Pom Wonderful 100% Pomegranate Juice
‌Serving size: ‌8 fluid ounces
‌Calories: ‌160
‌Carbohydrates: ‌39g
‌Protein: ‌0g
‌Fat: ‌0g
‌Sugar: ‌34g
Pomegranate juice is not only tasty and tart, but it's a good source of carbohydrates. "A lot of runners may think they need tons of protein post-run, but the nutrient they need to replenish more of is actually carbohydrates, as their glycogen stores get depleted after running," Ehsani says.
Pomegranate juice is also a great option for any runner who doesn't like — or can't tolerate — dairy-based recovery beverages.
Still, you need a little protein post-run. Since POM's pomegranate juice doesn't offer any protein, you'll have to get it from another source. "Pair the juice with [a handful of] pistachios to get your post-workout protein," Ehsani suggests.
3. Skratch Labs Vegan Sport Recovery Drink Mix
‌Serving size: ‌2 scoops (59g) in 12 fluid ounces of water
‌Calories: ‌230
‌Carbohydrates: ‌40g
‌Protein: ‌10g
‌Fat: ‌6g
‌Sugar: ‌34g
Many recovery snacks and beverages are made with dairy, making for slim pickings if you don't eat animal products. So, vegan runners may appreciate this recovery drink mix.
Alex Larson, RD, a registered dietitian who works with endurance athletes, likes Skratch Labs Vegan Sport Recovery Drink Mix because it has the ideal blend of carbs and protein. The protein comes from pea and rice protein, offering 10g per serving.
Add a couple of scoops to 12 fluid ounces of water, shake and enjoy!
4. Lifeway Low-Fat Strawberry Kefir
‌Serving size: ‌1 cup
‌Calories: ‌140
‌Carbohydrates: ‌18g
‌Protein: ‌10g
‌Fat: ‌2g
‌Sugar: ‌18g
A fermented yogurt drink may not be the first thing that comes to mind as a post-run beverage, but Ehsani says this one has the perfect composition of carbs and protein. One cup of the low-fat variety offers roughly 18g of carbs and 10g of protein.
Kefir has gut-health benefits, too. Like other fermented foods and beverages, kefir is packed with gut-friendly bacteria known as probiotics. These may promote immune health and help your body maintain a healthy balance of microorganisms, per the National Center for Complementary and Integrative Health (NCCIH).
Plus, kefir tends to be friendly to people who are lactose intolerant, Ehsani notes. Drink it on its own or add it to a smoothie.
5. Fairlife Chocolate Core Power
‌Serving size: ‌14 fluid ounces
‌Calories: ‌170
‌Carbohydrates: ‌8g
‌Protein: ‌26g
‌Fat: ‌4.5g
‌Sugar: ‌7g
These ready-to-drink Fairlife shakes don't have to be refrigerated, making them perfect for traveling. "They taste great and have a great dose of high-quality protein," Larson says. One 14-ounce drink provides 26g.
The shake is made with milk and offers a whopping 50% of your daily value of bone-building calcium. And while the shake tastes like chocolate milk — a popular go-to recovery drink — it doesn't contain any added sugars.
Larson notes that the carb content is low, "so I would pair this with some carb-rich foods to help refuel muscle glycogen stores."
What to Know About Using Post-Run Recovery Drinks
1. You Need a Combo of Nutrients
Your body needs protein ‌and‌ carbs post-run. If your recovery drink lacks one of these nutrients, pair it with a small snack that fills the gaps.
Every athlete is different, but a general guideline to follow is 1 to 1.2 kg of carbohydrates per 1 pound of body weight and 10 to 20g of protein per recovery drink. "For a 150-pound runner, that's anywhere between 68 and 81g of carbs and 10 to 20g of protein," Ehsani says.
However, caffeine is typically used as a performance enhancer. So, it would make more sense to take it before a run than after a run, says Hillary Ake, RD, a board-certified specialist in sports dietetics.
Ehsani also advises avoiding caffeine after a late afternoon or early evening run, post-run, "as it may impact sleep."
3. Electrolytes Are a Bonus
Electrolytes are minerals (sodium, potassium, chloride, magnesium, calcium, phosphorus) lost through sweat that affect many body functions, per the U.S. National Library of Medicine. You need to replenish electrolytes through food and fluids; recovery drinks are an easy way to do that post-run.
4. Know When to Start Sipping Your Recovery Drink
Aim to start drinking your recovery drink within an hour of finishing your run. You'll still have increased blood flow and your body will still be receptive to insulin (a hormone that helps your body use sugar). This helps your body replenish glycogen (carbs) faster, Ake says.