The dark color and rich, sweet flavor of baked beans comes from adding a bit of molasses to the recipe. Molasses is the residual by-product of the sugar manufacturing process. The goal is to remove as much sucrose or table sugar out of sugar cane, beets or sorghum as is possible in a cost-effect manner. What is left over is not wasted, however, but is valuable as a sweetener and animal feed additive.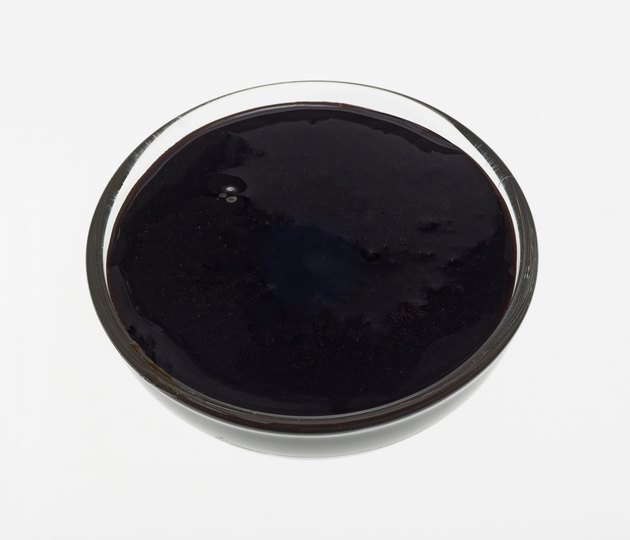 Making Molasses
Cane Molasses is made in a three-step process that begins with the juice from mature or green sugar cane plants. The juice is boiled to concentrate and crystallize the sugar. The result is called the "first" molasses. The crystallized sugar is removed and the residue is boiled again. The mixture darkens as the remaining sugar is burnt or caramelized. What results is called, "second" molasses. After more sugar crystals are removed, the process is repeated once again. The final or "third" boil produces the dark, concentrated syrup known as blackstrap molasses.
Sulphured and Unsulphured Molasses
Molasses made from young sugar cane is called sulphured molasses because of the sulfur dioxide that is added to keep the raw cane fresh until it is processed and to preserve the molasses byproducts produced from it. Unsulphured molasses is made from matured cane plants that have been allowed to ripen naturally in the field. Blackstrap molasses can be sulphured or unsulphured. The U.S. Food and Drug Administration says sulfur dioxide is "generally recognized as safe" for use as a preservative -- except on meats of vegetables meant to be sold as fresh food.
Unsulphured Molasses Benefits
Processing the sugar out of sugar cane takes out the empty calories and leaves the nutrition behind. Molasses is still sweet, but it has acquired the distinct molasses flavor and natural nutrients. Molasses contains iron, magnesium phosphorus, potassium, sodium, zinc, cooper, manganese, selenium, thiamine, riboflavin, niacin, pantothenic acid and choline. The sulfur dioxide used during manufacturing does not add or take away from molasses's nutritional profile. If you are allergic to sulfur-containing food preservatives, however, look for unsulphured molasses.
Blackstrap Molasses Benefits
The triple boiling and sugar extraction process results in Blackstrap molasses being a more nutritionally dense sweetener than plain or "second" molasses. Blackstrap contains the same vitamins and minerals as "second" molasses, but in a more concentrated form. Blackstrap molasses also contains antioxidant compounds, which may help prevent cell damage from free radicals. Blackstrap can be used to sweeten beverages and to add flavor and color to cooked foods. As with "second" molasses, you should purchase the unsulphured Blackstrap if you are allergic to sulfur-containing food additives.