Running is an aerobic exercise that promotes healthy cardiovascular function by working large muscle groups in your legs, hips and arms. Regular aerobic activity is one part of an effective weight loss program. Losing weight while promoting lean muscle mass -- through aerobic and strength training -- can tone your legs. Running alone is an effective way to lose weight; however, a well-rounded fitness routine including strength training may yield better results. Talk to your doctor before starting any exercise program.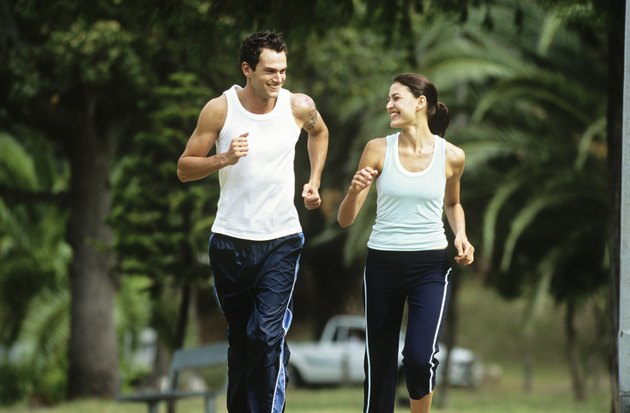 Running's Primary Movers
During the transfer of motion while running, your body mainly relies on your quadriceps, hamstrings and calf muscles to move your legs. The quadriceps are your front thigh muscles, and serve to straighten your leg. Hamstrings oppose the quadriceps, and run down the backs of your thighs. Their purpose is to bend your knee and extend your thigh behind you. The calf muscles help power your stride by allowing your foot to push off of the ground. Though your legs perform the lion's share of the work, your arms and core muscles -- which include your abdominals, hip flexors, gluteals and back -- also support your movement.
Endurance Running Benefits
True for any exercise, running for 45 or more minutes can significantly increase the amount of calories and fat you burn. Glycogen, a stored form of energy in your muscles, is used as fuel during the first 15 minutes of exercise, according to the book "Running Until You're 100" by Jeff Galloway. Between minutes 15 and 45 your body begins to switch fuels, preferring fat to glycogen. By minute 45 and beyond, your body is burning mostly fat. Galloway recommends at least one 60+ minute run or walk per week to burn fat, taking walk breaks during the run to keep from becoming fatigued. You can also aim to complete three 45-minute workouts each week, with no more than two days of rest in between.
Running Workouts for Leg Strength
Shorter, more intense running sessions can also strengthen your leg muscles and increase your weight loss. Find a long hill with a steady incline, or step on a treadmill to customize the grades of the hills you run. After a five- to 10-minute warm up, begin running up the hill or raise the treadmill's incline to three percent. Run at a pace that feels moderately difficult, but does not exhaust you, for five minutes. Reduce the elevation and walk or jog for three minutes. Begin another hill running interval, increasing the incline for an additional five minutes. If running outside on a short hill, perform three to four sets of five hill sprints at a time, with a three-minute break in between.
Strength Training
In addition to running, hitting the gym can also help you reach your weight loss goals and tone the muscles in your body. A regular strength-training program can reduce your body fat, increases your lean muscle mass and helps you burn calories more efficiently. It also strengthens your bones and reduces age-related muscle loss. You can use your own body weight, exercise bands, free weights, machines and a variety of other tools to tone your muscles. Aim for two to three 20- to 30-minute sessions per week, working all the major muscle groups.
Considerations
Talk to your doctor before beginning a running program, and enlist the help of a running coach. Coaches can correct poor form -- which leads to injury and pain -- as well as design a suitable program that fits your goals and current state of health. Learn proper weightlifting technique from a personal trainer to reduce your injury risk.