Painful urination is not just a condition that affects adults. Children can have burning or stinging when urinating, as well as an increased in the need to urinate. These symptoms range in severity and signify either an infection or a temporary irritation. Your young child may not be able to articulate the pain, so crying during urination is a possible symptom. Always consult your doctor if your child is showing signs of discomfort.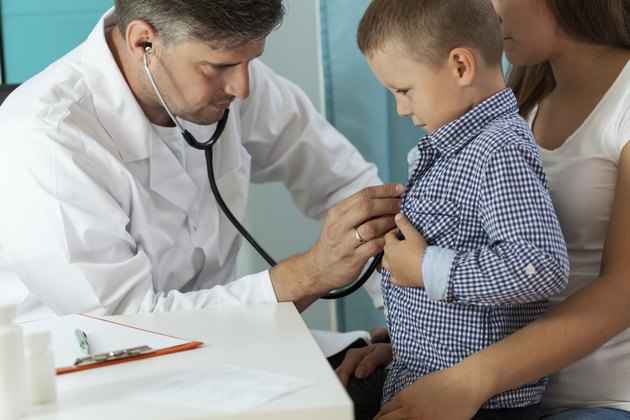 Bladder Infections
Bladder or urinary tract infection often cause painful urination in kids. A bladder infection occurs when bacteria enters or grows in the bladder. Insufficient or incorrect wiping is one way in which bacteria is introduced into the bladder in girls; teach your daughter always to wipe gently from front to back. Ignoring the urge to urinate can also cause harmful bacteria to form. A bladder infection can be diagnosed through testing at your doctor's office. Your child will need to give a urine sample. Your doctor may instruct you on collecting a sample at home, where you child is more likely to cooperate.
Irritation
Irritation plays a role in painful urination in kids, most often in girls. Vulvitis is the term used to describe an irritation of the tissues of the vulva in females. Soap and bubble bath, especially highly scented items, contribute to vulvitis and painful urination in many girls. Children's Hospital Colorado names soap vulvitis as the top source of painful irritation in girls before puberty. Boys can also experience painful urination due to irritation as well. This less-common phenomenon is caused by an irritation of the urethra at the tip of the penis.
Lifestyle Treatment
Adjusting your child's lifestyle can help lessen painful urination associated with both irritation and urinary tract infections. Offer your child plenty to drink, especially water; fluids help flush harmful bacteria out of your child's urethra and bladder. The additional fluids dilute your child's urine, making it less irritating. Avoid citrus juices, carbonated or caffeinated beverages; these substances are bladder irritants and could increase a kid's urge to urinate. Soaking in a warm bath without soap calms irritated tissues in both boys and girls. Adding 2 oz. of baking soda to your daughter's bathtub soothes vulvitis as well as plain water.
Medical Treatment
Bladder infections confirmed by a urinalysis are treated with prescription-strength oral antibiotics. In cases of severe urinary tract infections that also involve the kidneys, stronger, injectable antibiotics are another possible treatment method. If your doctor approves, give your child over-the-counter non-steroidal anti-inflammatory medications such as acetaminophen or ibuprofen to relieve pain associated with vulvitis in girls or inflammation of the urethra in boys. Pain relievers are also appropriate for relieving the discomfort of a bladder infection before the prescription mediation takes effect. Call your child's doctor if he develops a fever in addition to painful urination symptoms or if symptoms do not improve with medication.