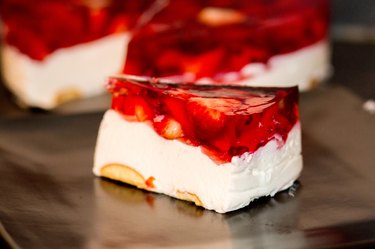 Whipped-cream frosting is a light, fluffy frosting often used to frost angel, chiffon and sponge cakes. Made with heavy cream and white sugar, it is the simplest frosting to prepare quickly. Since whipped-cream frosting is heat-sensitive, keeping the cake thickly frosted can be a bit of a challenge. Incorporate some steps in the frosting process to ensure an evenly frosted cake.
Step 1
Chill the utensils and ingredients before preparing the whipped-cream frosting. Place the bowl, whisk, sugar and whipped cream in the freezer for about 15 minutes. This helps to ensure that your whipped cream will keep at a consistent temperature after preparation.
Step 2
Prepare the whipped-cream frosting according to your recipe with the chilled utensils and ingredients. Whip the frosting so that it forms stiff peaks.
Step 3
Frost only cooled cakes. Warm cakes will melt the whipped cream frosting within minutes.
Step 4
Place the cake in a covered cake display and keep in the refrigerator. The cover will prevent the whipped cream from absorbing refrigerator odors. Keep your refrigerator temperature around 36 degrees Fahrenheit. The frosting should keep stiff on the cake at this temperature.
Tip
Since whipped-cream frosting is more porous than buttercream frosting, it will only keep in the refrigerator for three days.