Blood pressure is used as a general diagnostic tool to determine heart health. Blood pressure numbers can help physicians diagnose, treat and predict medical problems. Monitoring your own blood pressure at home is a good way to keep track of your heart's health. Whether you use a digital or aneroid blood pressure monitor, you will need to slide the inflatable cuff onto your upper arm, over your biceps. If you are wearing a shirt with sleeves, you may find it difficult to position the cuff. According to a study published in the "Oxford Journals," you can take your blood pressure over a single layer of sleeve, but thicker materials and several layers of clothes will prevent accurate readings.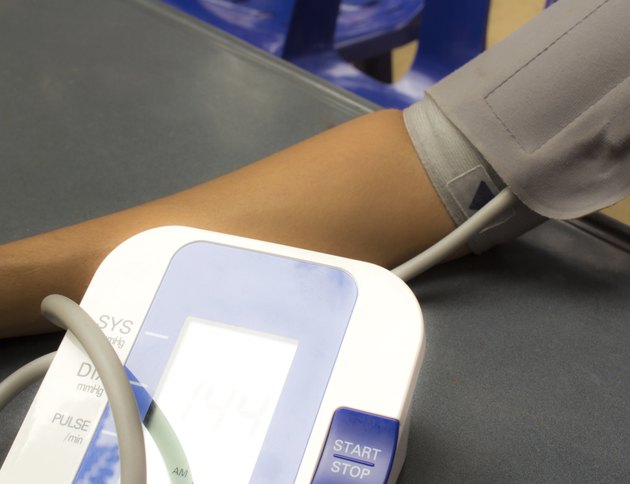 Step 1
Remove any extra layers of clothes, such as jackets and sweatshirts, but leave your base layer shirt on before taking your blood pressure.
Step 2
Position the cuff over the sleeve and over the biceps on your left arm. Ensure that there are no folds, wrinkles or bunched-up areas of fabric under the cuff.
Step 3
Inflate the cuff to a pressure 30 to 40 points higher than that of your last systolic reading, and place the stethoscope's ear buds into your ears. Some digital blood pressure monitors may self-inflate.
Step 4
Open the pressure valve slightly and monitor the pressure gauge as it falls. When you hear the first heart beat, note where the pressure gauge needle is. This is your systolic pressure. When you hear the second heart beat, note where the pressure gauge needle is. This is your diastolic pressure. Digital blood pressure gauges work the same way as analog gauges.
Tip
To get the most accurate readings, take your blood pressure when you wake up in the morning or after resting for several hours.
Warning
If you suspect that your blood pressure is unusually high, consult a medical professional. If you have blood pressure problems or hypertension, do not take your blood pressure over your sleeves.
Is This an Emergency?
If you are experiencing serious medical symptoms, seek emergency treatment immediately.