Firm resolutions notwithstanding, you probably haven't cleaned out your kitchen cupboards as recently as you'd like. The back corners doubtless conceal a number of things you don't remember buying, or perhaps can't even identify. It's worth marking a date on your calendar to do an annual overhaul of your kitchen, disposing of anything that's past its prime. Until then, most dry items like spices or baking powder can still be used, but they may not be as effective.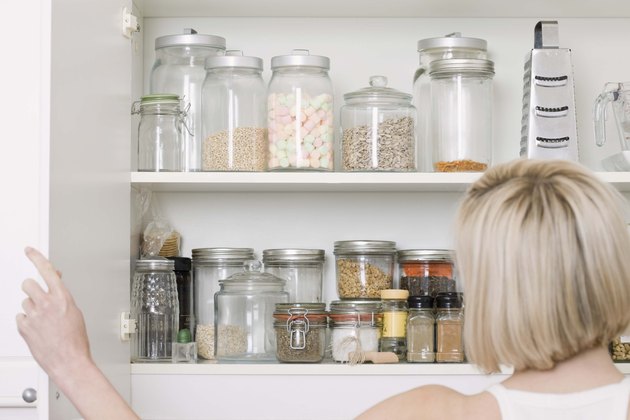 Freshness Dates
It's important to understand that there are two types of dating used on food products. On a package of ground beef, you'll see a "use by" date that is based on food safety. Past that date, the meat is likely to become spoiled and would put you at risk for food-borne illness. On durable dry goods, you'll find a "best by" date that reflects a gradual loss of quality, rather than a risk to your health. Baking powder falls into this category. It doesn't spoil, but it becomes a less effective leavener.
Baking Powder
The leavening power of baking soda, or sodium bicarbonate, is well known. Unfortunately if you don't balance it with enough acidity in your baking, you'll find it creates an unpleasant chemical flavor. Baking powder avoids this problem by combining the baking soda with tartaric acid, also known as cream of tartar, in the correct proportion. When the powder is moistened and heated, the two components react and create carbon dioxide, which rises your cake or biscuits.
Effect of Aging
The baking soda and tartaric acid in baking powder do not react with each other when they are perfectly dry. Once the package is opened, though, humidity from the atmosphere will begin to seep in, and over time some of the baking powder will react prematurely. Most brands add cornstarch or similar ingredients as a buffer, to slow the process, but over a period of months the baking powder will inevitably lose strength. Your cakes and other baking will rise poorly, giving a dense and chewy crumb.
What to Do
Baking powder will last for six months to a year in the cupboard, depending how often you use it and how humid your local climate is. Date your baking powder when you buy it, and discard it at the six-month mark for best results. If your baking powder is old, test it by stirring a teaspoon of powder into a cup of hot water. It should bubble and fizz immediately. If necessary, you can make your own baking powder by sifting together two parts cream of tartar with one part each of baking soda and cornstarch.