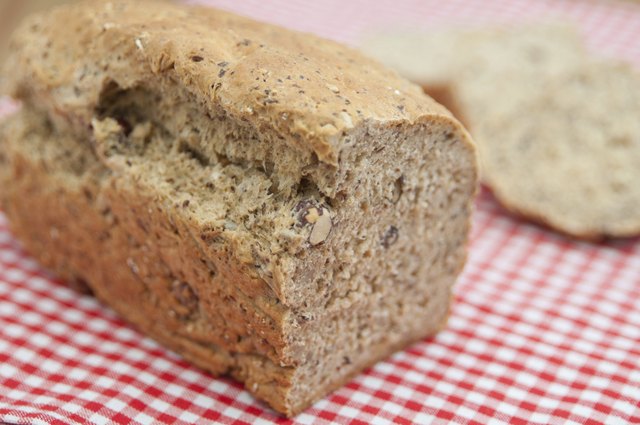 Baking soda is the classic ingredient that creates the quick leavening of baked goods such as banana bread. It's what gives the quick bread its fluffy and light texture. Baking soda produces just enough gas to form a bread that is not too dense or heavy, and requires no resting period to obtain the perfect loaf. It's an essential ingredient, but there are a few substitutes.
Banana Bread Basics
Quick breads follow a basic method of preparation. Typically, you mix the wet ingredients in one bowl and the dry ingredients in another. Then you combine the wet and dry mixtures. Without yeast, quick breads rely on leaveners to create the moist and light bread texture for which they are known. Without baking soda or another leavening agent, banana bread would be dense and lack any spring or bread-like qualities.
Baking Soda Basics
The common kitchen ingredient called baking soda is made of sodium bicarbonate and typically comes in a fine powder form. Along with its use in baking as a leavening agent, it is also an effective natural cleaning product, deodorizer and health product. When used in baking, very little is needed to help a loaf rise. Most banana bread recipes call for less than one teaspoon of baking soda to create a fluffy and light bread.
When You're Out of Baking Soda
While there is no perfect substitution for baking soda, baking powder can help out in a pinch to provide the same leavening power. To substitute baking powder, use 4 teaspoons for every teaspoon of baking soda called for in a recipe. Add baking powder to the dry ingredients before incorporating the wet ingredients, as it begins acting as soon as it gets wet.
Best Practices
For leaveners to work, you must have a batter that is thick enough to trap gases and you shouldn't overmix your ingredients. Mash the bananas for your bread well by hand, but avoid using a food processor or pureeing them, as this affects the leavening agent's ability to rise the bread. Only mix the dry and wet ingredients together until all the flour is incorporated; overmixing the ingredients causes the gluten proteins to create an elastic batter that will not rise well.