Talk about going bananas: Americans peel back about 90 bananas each year, per the Mayo Clinic. Whether you love pairing the fruit with peanut butter or baking it into a sweet bread, it's time to level up your repertoire of banana recipes.
Bananas are high in carbohydrates, making them a great breakfast food or pre-workout snack for a quick boost of energy, according to the Mayo Clinic. The fruit is also high in potassium, a nutrient that can help regulate blood pressure and promote good nerve and muscle function. However, since bananas are low in protein and unsaturated, healthy fats, you'll want to combine them with complementary foods that provide those macros.
These five banana pairings can give you that balanced nutrient profile — and crush your cravings for sweets in a healthy way.
1. Caramelized Banana Dessert Hummus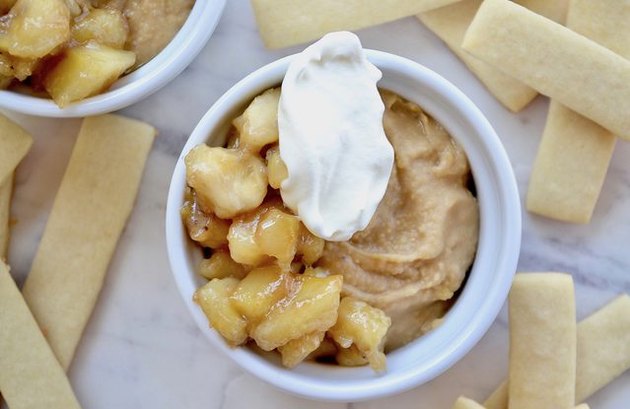 If you're a hummus fan, you'll love adding a boost of banana to this fan-favorite chickpea dip. While you can enjoy this recipe with just a spoon, you can also pair it with some pretzel thins for added crunchiness. And let's be honest, who doesn't love pretzels and hummus?
While bananas are high in carbs, they aren't particularly high in fiber (only about 3 grams per medium fruit). Luckily, chickpeas pack in protein and fiber, both of which can help promote satiety, according to the Harvard T.H. Chan School of Public Health. One specific type of fiber in these little legumes is raffinose, which can help reduce inflammation and regulate your digestion.
2. Grilled Banana Split Breakfast Bowl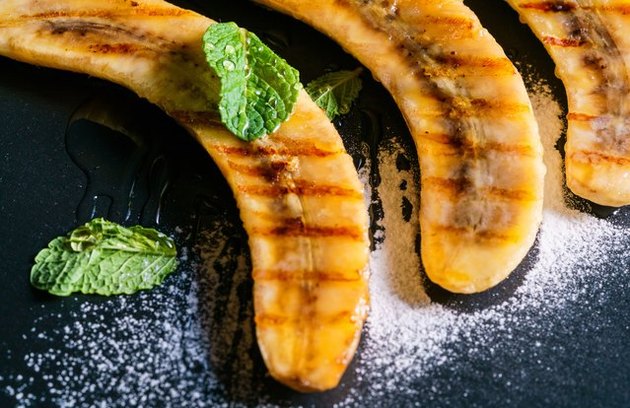 This recipe gives your favorite childhood dessert a healthy twist, topped with grilled bananas for a decadent twist. This banana split breakfast bowl is high in protein, high in unsaturated fats and only takes 20 minutes to prepare.
While we all love ice cream, this recipe calls for low-fat Greek yogurt, which is a great probiotic food to incorporate into your morning. Probiotics can help promote gut health and are especially advantageous for those that may experience common digestive issues like diarrhea or constipation, according to Harvard Health Publishing.
3. Gluten-Free Ice Cream Protein Sandwiches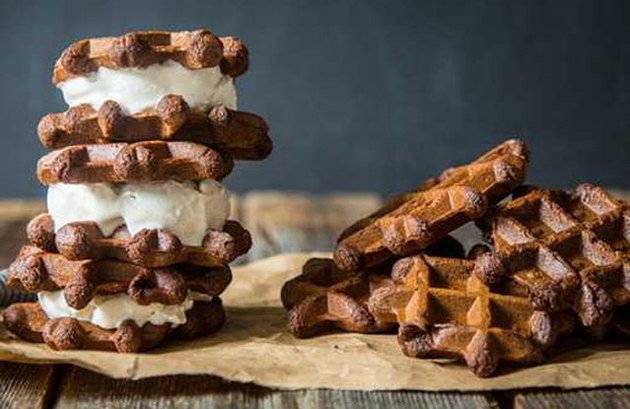 Banana "nice" cream? Yes, please! These ice cream sandwiches are made with a frozen banana base, making them a great lower sugar alternative for those nights you just can't skip dessert.
This recipe calls for flax seeds and peanut butter, making it high in unsaturated fats, which may help lower LDL (bad) cholesterol, according to the Mayo Clinic. Nuts and seeds are also high in vitamin E, which is linked to halting the development of plaque in the arteries.
4. Baked Banana Bread Oatmeal
The combo of oatmeal and banana is not a new concept. But this oatmeal recipe is baked with mashed bananas and then topped with spiced caramelized banana slices for a delicious twist. This a.m. meal is high in whole grains and low in saturated fat, deeming it a great breakfast food or dessert.
Oats are a great source of soluble fiber, which can help promote healthy, regular digestion. Plus, oats are rife with beta-glucans, a starch that helps promote a healthy immune system, and may even help lower LDL (bad) cholesterol and blood pressure, according to the Whole Grains Council.
5. Tiramisu Protein Pancakes With Banana-Cream Frosting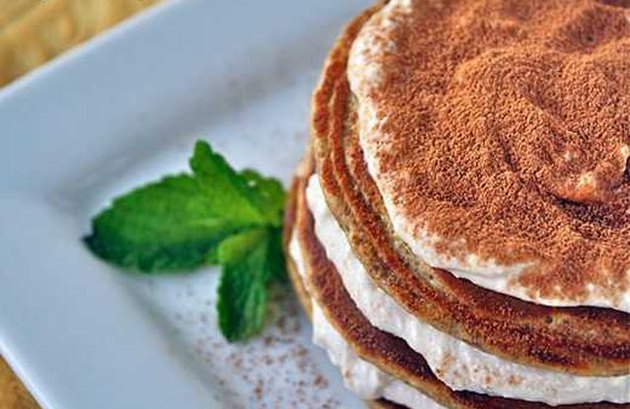 While these pancakes may taste like dessert, this recipe is high in protein and carbs, which means it can give you the jolt you need to breeze through your morning. Add some cold brew coffee into the mix for that signature tiramisu taste.
Coffee can increase your alertness and concentration but also provides an array of other health benefits. Coffee is a source of polyphenols, an antioxidant that's known for its anti-inflammatory effect on the body, according to Harvard T.H. Chan School of Public Health. However, be cautious if you're caffeine sensitive, as cold brew usually contains high levels of caffeine.