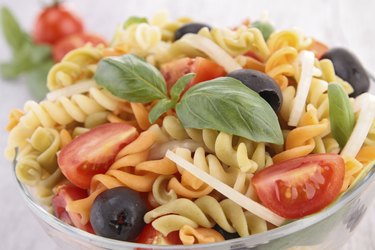 Cold pasta dishes are refreshing on warm days and attractive any time of year for the ease in serving. Making cold pasta and storing it in the refrigerator for serving whenever you're ready is convenient, particularly when you're busy. Make your dish with whole grain pasta for the heart-healthy benefits of the fiber found in whole grains. While cold pasta is often considered a casual food, it's also easy to create an elegant meal composed entirely of cold foods from all the food groups for complete nutrition.
Cold Soups
Soup is a traditional starter for many meals, but it doesn't have to simmer for hours or be served hot. Cold soups are quick to prepare and will wait in the refrigerator until you're ready to serve before your cold pasta dish or alongside it. A cool melon soup made with cantaloupe or honeydew pairs well with a chicken pasta salad. Puree peas or cucumber with plain yogurt, water and fresh mint for a simple soup. Steamed carrots pureed with fresh ginger, vegetable broth and sour cream is a good accompaniment to cold noodle dishes with Asian flavors.
Cold Meats
An assortment of lean meats or one main entree provides protein for pasta dishes that heavily feature vegetables or fruits. Choose lean, low-sodium deli meats prepared without nitrates and sliced thinly for you at a meat counter. Arrange on an antipasto tray for a buffet meal. Cold poached salmon with lemon slices is an elegant centerpiece surrounded by cold pasta salads. Cold steamed prawns work well alone or as an additional topping for a simple pasta dish.
Vegetables and Fruits
Serving a colorful mix of raw vegetables with hummus or spinach dip along with cold pasta featuring meat or other protein is healthy and easy. Expand your offerings by creating an antipasto platter with artichoke hearts, olives, baby corn and roasted peppers. Dress up thinly sliced cucumbers by lightly pickling for an hour in vinegar, sugar and salt. Steam asparagus spears and serve cold drizzled with lemon juice or vinaigrette. A salad made with chopped, fresh tomatoes, red onion and fresh basil is a refreshing side dish. To brighten up a fruit tray, serve chunks of melon and whole grapes threaded on skewers, or alternate strawberries and mint leaves.
Whole Grains
Couscous is a versatile grain that forms the basis of many salads. Mix with vegetables and herbs for a savory dish, or add chopped fruit, such as peaches or apples, for a sweet dish. Sprinkle with cinnamon for contrast with pasta dishes incorporating meat. Tabouli is a salad made with bulgur, a whole grain made from wheat, and tomatoes, cucumber, onions, parsley and mint. Use bulgur to break with tradition and mix with beans, corn and bell peppers for a Southwest-inspired dish. For complementary texture and visual appeal, serve whole grains with dishes made from small pasta, such as orzo.