The American College of Sports Medicine recommends 150 minutes of moderate-intensity cardiovascular exercise per week to improve your health. How you divide that time throughout the week depends on your schedule, your level of fitness and your personal preference. While many people find it hard to find time to exercise even once per day, there are several benefits to doing two cardiovascular workouts per day.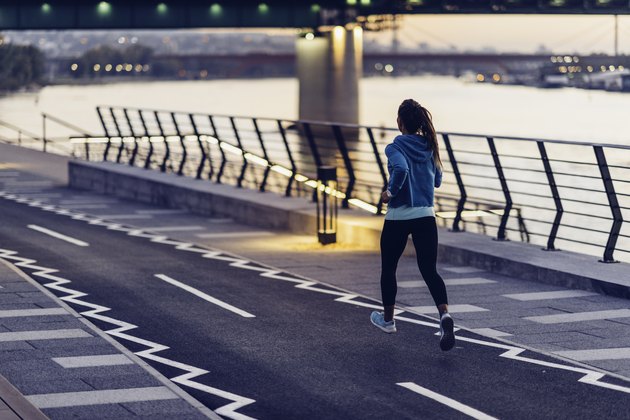 Weight Loss
One advantage of twice-per-day cardiovascular workouts is that you burn additional calories. You need to burn 3,500 calories more than you consume to lose 1 pound. Doing a 30-minute brisk 3.5 mph walk in the morning burns about 150 calories, if you weigh 155 pounds. At that rate, it would take nearly 23 days to lose 1 pound. But add in an additional 30-minute walk at night and you cut that weight-loss time in half. Of course, your actual calorie-burn rate varies according to your size and intensity.
You'll burn even more calories if you do two intense cardio activities per day. Perhaps you want to run, but are only able to run for 20 minutes without stopping. In 20 minutes, the 155-person burns 220 calories going a modest 5.2 mph. Adding a second run or even a walk later in the day would greatly speed up your weight loss.
Improve Your Health
Cardiovascular exercise offers many health benefits — if you meet the recommended 150 minutes per week. Aerobic training can help to decrease body weight and fat, decrease cholesterol and blood pressure, increase "good" cholesterol and improve insulin sensitivity.
To achieve 150 minutes per week, you'll need to commit to about 30 minutes per day on most days. This isn't always realistic when you're faced with work, social and family obligations. Exercise is additive, meaning doing small bouts over the course of the day is equivalent to one long workout. Working out twice per day will allow you to improve your health faster than you would with only one workout per day.
If you struggle to find 30-minute bouts of time to devote to exercise, you get just as much benefit healthwise breaking up those sessions into two 15-minute cardio workouts. Do a brisk walk or some calisthentics in the morning, and another quick effort after dinner, to achieve your health goals. No matter how you decide to divide your workout time throughout the day, make sure each bout of exercise is at least 10 minutes long to experience all of the health benefits cardiovascular exercise has to offer.
Save Time
If you struggle to find time to fit in a workout, dividing it up into two segments may be a better option. This is especially true if you're training for a big event, such as a marathon or triathlon. Training for endurance events sometimes require an hour — or two or three — of cardio per day to get ready.
Rather than trying to find a whole hour to work out, you could do a 30-minute workout when you wake up and another 30 minutes after work. Not only will it be easier to fit into your daily schedule, but it may also offer a chance to try a higher intensity for one workout since it will be shorter than normal. If you're training for an event with multiple sports, such as triathlon, twice per day workouts allow you to swim in the morning and cycle in the afternoon, too.
Increased Energy
Most early-morning exercisers feel energized after their workout and that energy carries them through a good portion of their day. Doing two cardio workouts a day is a great way to wake up your body and feel more energetic. An early workout will help you wake up and prepare for the day. An early evening workout will help free you from the stress of the day.