Since olive oil contains 100 calories per tablespoon, salad dressings that use it as a base are high in calories and fat. Oil helps dressing adhere to the salad ingredients and provides flavor and texture. To make salad dressing without oil, add low-calorie ingredients that have plenty of flavor. Some ingredients also make the dressing adhere to the ingredients and provide a creamy texture.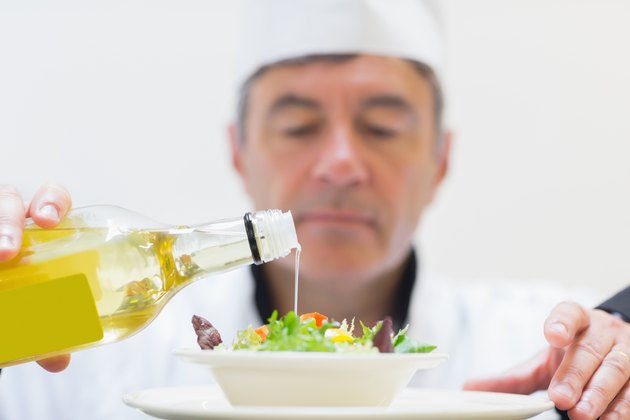 Juice and Broth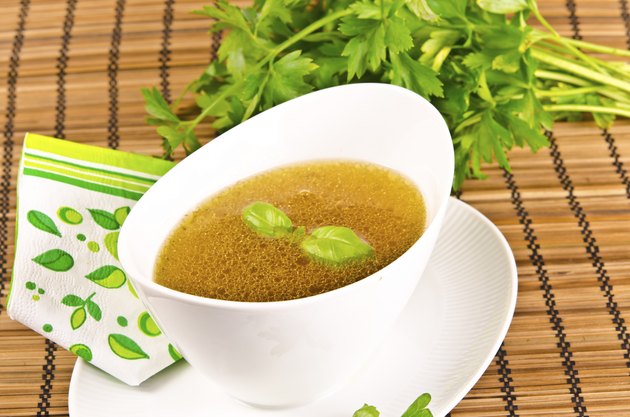 Juices such as apple cider, pineapple juice or orange juice provide plenty of flavor to salad dressing. Combined with vinegar, they make sweet-tart dressings suitable for salad greens or fruit salad. Combine 2 cups of juice with 0.25 cup of vinegar. Choose a vinegar that complements the juice, such as apple cider vinegar for apple cider or champagne vinegar for orange juice. A tablespoon of honey adds a more luxurious mouth feel and flavor. Use vegetable broth or chicken broth to make a savory dressing with vinegar, mustard, fresh herbs and other aromatics.
Dairy Products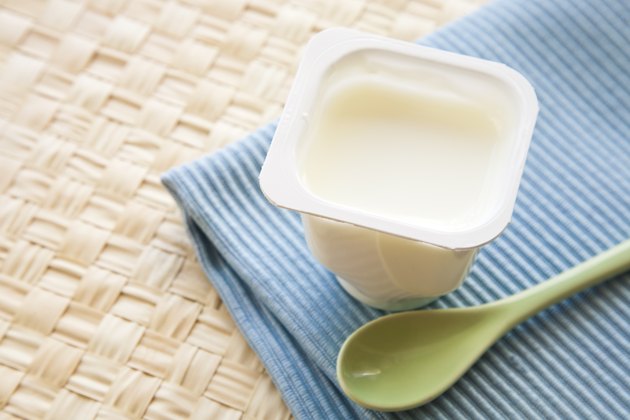 Use non-fat sour cream or non-fat yogurt as the base of your dressing. Thin the sour cream or yogurt with non-fat buttermilk. Add chopped shallots, fresh herbs, lemon juice, a pinch of sugar and a spoonful of mustard for flavor. Dairy products make a salad dressing creamy, similar to an emulsified vinaigrette made with olive oil and egg yolks or mustard, which are emulsifiers. Non-fat sour cream, yogurt and buttermilk give salad dressing a tart taste that makes the taste of herbs and other seasonings stand out.
Vinegar and Lemon Juice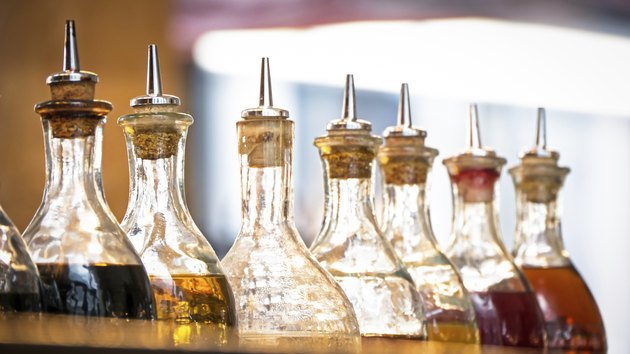 Choose a flavorful vinegar, such as apple cider, tarragon, balsamic, champagne, white wine vinegar, red wine vinegar or raspberry vinegar, to match the other ingredients in the salad dressing and the ingredients in the salad. If the dressing has enough flavor, you won't notice the lack of olive oil. Lemon juice and lemon zest add a pleasant sharpness to dressing.
Make your own raspberry vinegar by putting fresh raspberries in a small glass jar. Cover them with white vinegar and then put on a lid. Store the mixture in a cool cupboard for a few days, then strain the vinegar and discard the solids. Keep the raspberry vinegar in your refrigerator.
Pectin and Water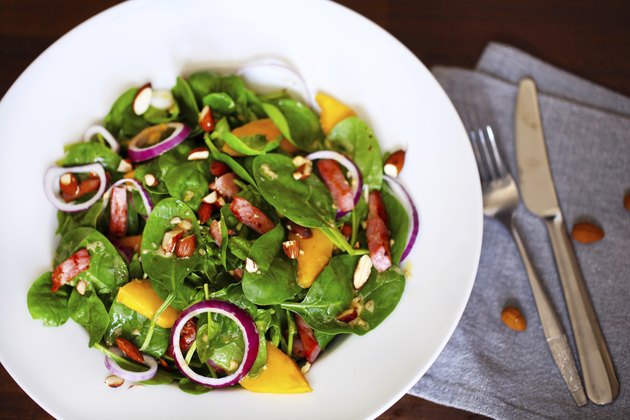 Pectin and other thickeners made from seaweed or gelatin can be used to make salad dressing creamier and thicker. Cook the pectin with water and the flavor ingredients until it thickens, and then allow it to cool before using it. For instance, combine 2 1/2 cups of water with 1/3 cup dry pectin, and flavor the mixture with sugar, vinegar, soy sauce, salt, pepper and fresh ginger. Bring it to a boil, stirring constantly, and then allow it to cool. Garnish this salad dressing with fresh coriander leaves, and use it in Asian-style salads.