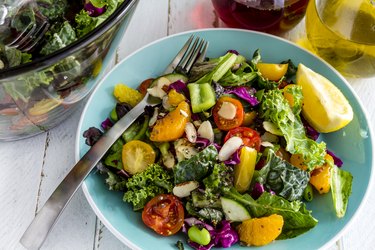 You might've heard the hype about apple cider vinegar and its link to weight loss. Although the tangy stuff is not a magical fix for dropping a pant size, adding a splash of ACV to your meals — along with other tried-and-true healthy weight loss strategies — may help you shed unwanted pounds.
Indeed, research found that participants who drank a total of 2 tablespoons of apple cider vinegar with lunch and dinner, in addition to eating 250 fewer calories each day, lost an average of almost 9 pounds over 12 weeks, according to an April 2018 study published in the Journal of Functional Foods. Plus, researchers observed a drop in their cholesterol levels.
What's more, the vinegar may also be good for your gut — as long as you choose bottled that are labeled "with the mother." "ACV referred to being 'with the mother' means that it contains the original culture that converted regular apple cider into vinegar," Bonnie Taub-Dix, RDN, tells LIVESTRONG.com. "It is this murky culture that supposedly provides beneficial bacteria."
So while some research points to ACV's potential weight-loss and gut health benefits, drizzling a little apple cider vinegar on your next plate of greens won't hurt. From smoothies to salads, here are five recipes to get you started.
1. Sweet Potato, Chard and Turkey Sausage Hash With Eggs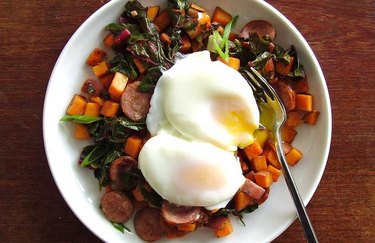 This colorful dish is a satisfying assortment of tastes and textures thanks to juicy turkey sausage, bitter swiss chard, runny poached eggs and tender sweet potatoes. A dash of apple cider vinegar balances out the flavor of this hearty hash that's perfect for breakfast, lunch or dinner.
2. Beet and Fennel Salad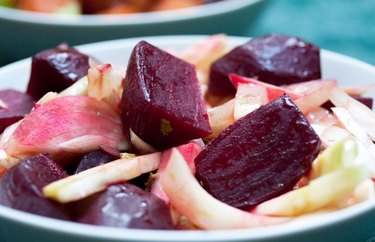 Nothing beats beets! With their earthy sweetness, these vibrant root vegetables pack some serious antioxidant power thanks to betalains (the compounds which lend beets their rich red color). Make sure you pair this salad with a lean chicken breast or tofu to get your daily protein quota.
3. Everyday Green Smoothie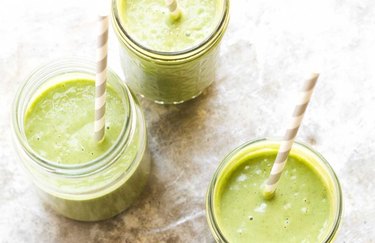 Between chia seeds, baby kale and pears, this green smoothie makes an ideal midday snack to stave off hunger until dinnertime. The tartness from the apple cider vinegar balances out the starchy sweetness of the pear. For an extra boost of protein, add a scoop of your favorite plant-based protein powder.
4. Roasted Red Cabbage Salad With Pomegranate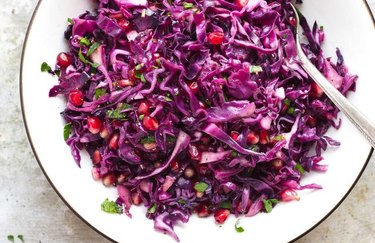 With its magenta hue, this roasted red cabbage salad is as pretty on your plate as it is yummy in your mouth. The peppery, crunchily-good cabbage makes a perfect yet unexpected complement to the sweet, burst-in-your-mouth pomegranate seeds. Plus, it makes a great low-carb side for any main dish.
5. Caesar-Style Kale Salad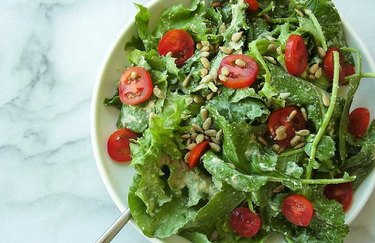 This is not your average Caesar salad! This tangy twist swaps out traditional Caesar dressing for a mouth-puckering purée of healthy hummus, unsweetened green tea, apple cider vinegar, tamari soy sauce and, of course, good ol' parmesan cheese. Replace romaine lettuce with baby kale and sprinkle some sunflower seeds for a satisfying crunch.