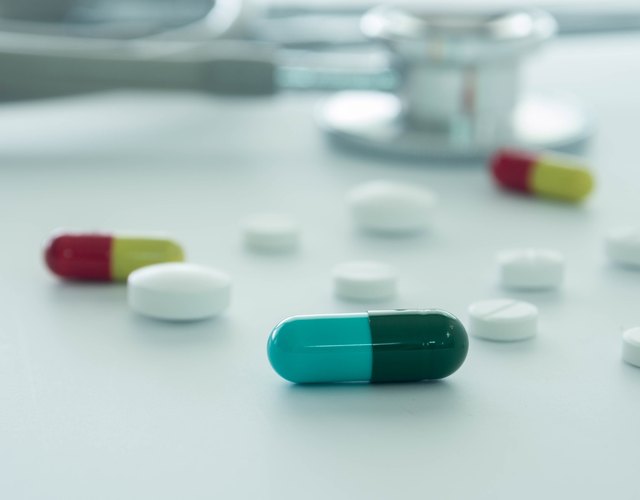 Bloating may occur due to a wide variety of reasons ranging from excessive food consumption to menstrual issues. It is helpful to determine first what is causing the bloating in order to figure out how to deal with it. Depending on why it is occurring, different vitamins, minerals or herbs may help to reduce bloat. Check with your doctor if bloating is an ongoing issue, as it may be a sign of another ailment.
Magnesium
The mineral magnesium not only helps with bloating but also weight gain and breast tenderness, notes health journalist Deborah Mitchell in her book "The Family Guide to Vitamins, Herbs, and Supplements." Magnesium is used in hundreds of biochemical reactions in the body, including metabolizing food and energy production. It also reduces fluid retention, which may be the primary way magnesium lessens bloating. Green leafy vegetables, whole grains and nuts all contain high levels of magnesium.
Dandelion
Dandelion root or leaf can help reduce bloating. Breast tenderness and muscle spasms can also be helped by dandelion, notes Mitchell. Dandelion is a diuretic, helping to eliminate excess water from the system that may cause bloating. Yet it also contains potassium, so it does not deplete this nutrient as other diuretics may. Mitchell recommends 2 cups of dandelion tea per day, each made from 1 to 2 tsp. of dried leaves or 1 tsp. of dried root.
Lactase
If lactose is the culprit behind your bloating issues, taking lactase enzyme tablets may help. In the book "Principles of Clinical Gastroenterology," Tadataka Yamada, M.D., notes research that found lactase supplements helped to reduce bloating, cramps and gas in adults after eating lactose-containing foods. The same was true for children. Bloating may occur in part because lactose is not properly digested by those with lactose intolerance. Lactase supplements provide the missing enzyme to break down lactose. See your doctor to determine if lactose intolerance is an issue for you, and the amount of enzymes you should supplement.
Calcium
Calcium may also help with bloating, especially if the bloating is related to PMS. Dagmara Scalise relates in her book "The Everything Health Guide to PMS," that calcium supplements in the initial phase of PMS can reduce not only bloating, but also improve mood and reduce food cravings. Like magnesium, calcium can help with water retention. The two minerals also work together and balance each other out. Some supplements contain a 2-to-1 ratio of calcium to magnesium while others contain a 1-to-1 ratio. Be sure to check with your doctor to determine the right amount for you.