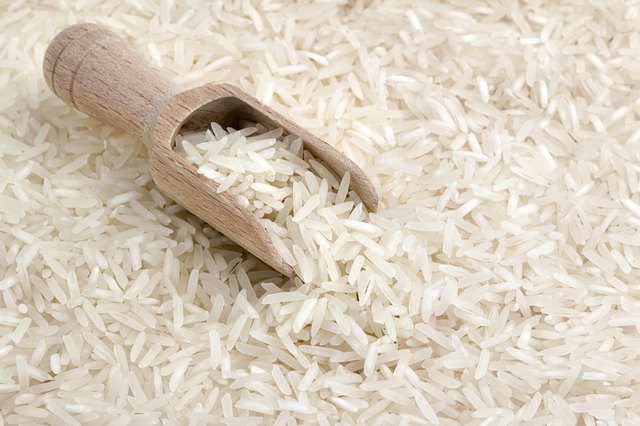 Fragrant basmati rice is frequently used as the base for pilafs or paired with curries. Like all other types of rice, this long-grain Indian variety is available in both brown and white forms. Brown basmati rice retains its outer bran layer and typically contains more fiber and nutrients than white basmati rice, which has been milled and stripped of its bran. The U.S. Department of Agriculture recommends that at least half of the grains you eat daily should be whole grains like brown rice.
Virtually Fat-Free
A 1/4-cup serving of uncooked brown basmati rice contains approximately 150 calories, with about 15 calories -- or 10 percent of the total caloric content -- contributed by 1.5 grams of fat. None of this amount is saturated fat or trans fat, and brown basmati rice does not contain any cholesterol. White basmati rice, which has 160 calories per 1/4-cup serving, has had some of its natural oils removed during the milling process and does not have any detectable amount of fat.
High in Carbohydrates
White basmati rice has 36 grams of carbohydrates in each 1/4-cup serving, while brown basmati rice has slightly less, with a 1/4 cup providing 33 grams. The two differ primarily in how much of these carbohydrates come from dietary fiber. None of the carbohydrates in white basmati rice is contributed by fiber, though a 1/4-cup serving of brown basmati rice has 2 grams of dietary fiber. For a man, this amount is almost 6 percent of his recommended daily allowance of fiber; for a woman, it supplies 7 percent of her requirement per day.
Low in Protein
Both brown and white basmati rice contain around 3 to 4 grams of protein. This amount supplies approximately 5 percent to 7 percent of a man's recommended daily protein intake and 6 percent to 8 percent of a woman's. The protein in basmati rice is incomplete since it does not have all of the amino acids required by your body. You can complete basmati rice's protein without consuming any animal-based protein sources by eating a variety of whole grains, beans, legumes and produce throughout the day.
May Be Nutrient-Enriched
Brown basmati rice is a source of minerals like iron and B vitamins such as thiamine, niacin and folate, though it does not contain a high concentration of any of these. According to the USA Rice Federation, a better choice for rice that supplies more vitamins and minerals per serving is white basmati rice that's been enriched, particularly with folate. A typical serving of cooked white rice contains 46 micrograms of folate, or over 11 percent of the recommended daily allowance for healthy adults.