Belly bloat can make your jeans fit uncomfortably and cause unsightly bulging around your waistline. Bloating in your stomach can be triggered by a variety of factors from poor food choices and lack of activity to a diet high in sodium or a lack of water. If midsection bloating is plaguing you, consider making healthy lifestyle changes. Modify your eating habits, while engaging in regular physical activity to flatten your stomach and keep bloating at bay.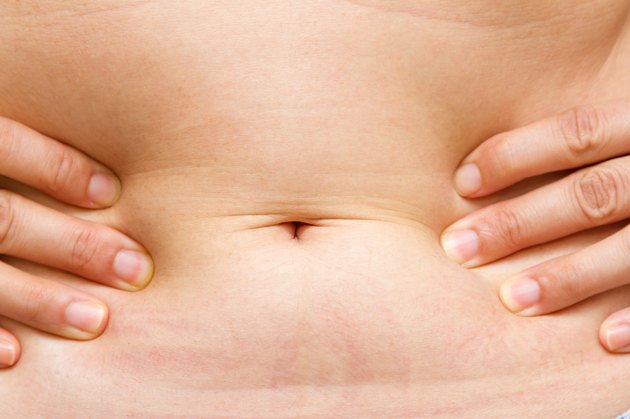 Step 1
Create a caloric deficit to help flatten your bloated stomach if you are overweight. In order to lose 1 lb., you need to cut about 500 calories per day from your normal, needed amount. Consume fewer calories, burn more calories with exercise or do a combination of the two.
Step 2
Consume all-natural high-fiber foods, which aid in digestion and help decrease bloating in the stomach. Choose fibrous foods in their natural form, such as whole grains, vegetables and fruits. Avoid processed, fiber rich foods such as breakfast cereals that contain chicory root or inulin, which are harder to digest and may cause gas and bloating when consumed in large amounts, notes registered dietitian Kristin Kirkpatrick in an article for "Fitness Magazine."
Step 3
Decrease your sodium intake to help reduce belly bloat caused by water retention. Avoid eating refined or processed foods, such as deli-meats, packaged meals and preseasoned foods that are loaded with sodium and chemical preservatives. Add flavor to your foods with fruits and vegetables or try salt-free seasonings such as herbs and spices.
Step 4
Drink more water to help hydrate your body and eliminate puffiness in your stomach caused by excess water weight. Carry a bottle of water with you while at work or running errands to stay hydrated throughout the day. Drink at least 8 cups of water per day.
Step 5
Reduce your dairy consumption to decrease midsection bloating caused by the sugars in milk. Digesting the lactose in milk can be difficult for the body and may cause gas, diarrhea and bloating. Switch to lactose-free milk such as soy, almond or rice milk. Try cheeses made with soy instead of cheeses made from cow's milk.
Step 6
Stay physically active to burn more calories daily and shed excess water weight. Participate in 30 to 45 minutes of cardiovascular exercise five days per week. Go for a swim, ride your bike, jog on the treadmill, or take a brisk walk. Engage in strength training workouts to tighten and tone your body. Perform full-body workouts that include exercises such as pushups, situps, lunges, dumbbell shoulder press, squats and barbell triceps press for three sets of 15 repetitions.