If you have a pear shape, you've probably spent much of your life fighting fat along your thighs, hips and rear. You can't change your natural body shape, and it's unlikely that you'll ever have rail-thin thighs. You can, however, work with your shape to sculpt a muscular, attractive lower body and shed unwanted fat.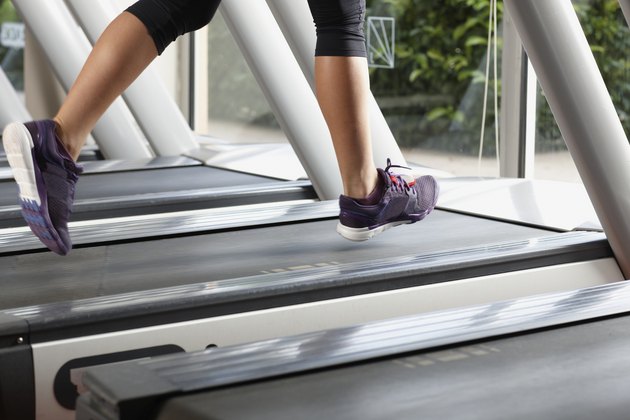 Cardiovascular Exercise for Fat Loss
If you want to get rid of excess fat, cardiovascular exercise could be your new best friend. Cardio works large groups of muscles rather than targeting one specific area, and generally burns more calories than exercises targeting a specific area of the body. For even more benefits, try cardiovascular exercises that work your hips and lower body such as cycling, running, jumping on a trampoline or swimming laps.
Working With Body Weight
You don't have to buy any special equipment to build muscle in your hips and thighs. Instead, try doing body-weight exercises. Lunges work your knees, legs and hips, and you can do them in extended sets to get a moderate cardiovascular workout. Squats will work your lower body in addition to your abs and back, helping you build strength. Try leg lifts to get your thighs in shape. You can do leg lifts lying on your back or your side, or sitting in a chair. For more intensity, try holding weights as you work out.
Weight Machines
If you're ready to graduate from body-weight exercises to regular trips to the gym, try weight machines that directly target your lower body. A leg press targets your thighs and rear, while leg curls on a leg curl machine will help you get firm thighs and a strong back. To combine cardio with strength training, try a rowing machine, which has the added benefit of working your arms and upper body.
Revving Up Intensity
Combining different types of exercise can help you get a stronger workout. Try interval training when you're doing your cardio. Simply alternate between a minute or two of intense exercise followed by a minute or two of moderate work. Circuit training can also help you gain strength and burn fat. Combine two or three circuits of weight training, followed by a circuit of cardio. Then follow up with another circuit of different weight-bearing exercises and a different type of cardio.