Salt-laden meals might taste savory to some people, but leave others feeling uncomfortable at the end of a meal. Salt's relationship to increased blood pressure is a hot topic, and exactly what the mechanism is behind its effects remains a matter of conjecture. How fast your blood pressure increases after a salty dinner depends on many factors including your weight, the amount and type of food you eat and your current health.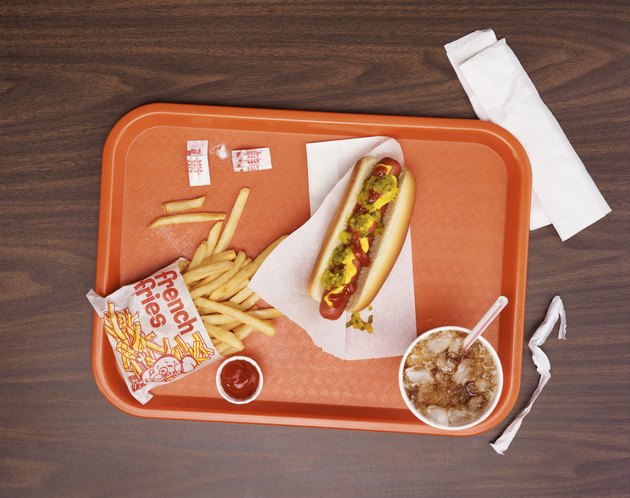 Sodium Basics
Under normal conditions, you excrete dietary sodium in the urine your kidneys produce. When you eat very high levels of sodium or salt, your kidneys might not be capable of excreting all the excess, so your body compensates by curtailing urine output, which has the effect of diluting your blood sodium. Restricting urine production also increases blood volume, and the amount of fluid around your cells and tissues.
Blood Pressure Effects
When your blood volume increases, the pressure of the blood against your vessel walls increase and your blood pressure rises. The extra pressure in your blood vessels, along with the extra fluid buildup in your body forces your heart to work harder. Over time, high blood pressure can cause damage to your artery walls, resulting in inflammation, plaque buildup, and the potential for stroke and heart disease.
Sensitivity
Not everyone reacts to sodium intake in the same way, and how you react can change over your lifetime. Some individuals show sodium resistance, or an ability to process and manage higher sodium intake, whereas others have sodium sensitivity, or an inability to manage and control blood pressure changes after sodium intake. Today, scientists point to the kidney's inability to process and excrete sodium efficiently as one reason that blood pressure rises in some people and not in others.
Immediacy
How fast, and how long-lasting rises in blood pressure occur depend on how long it takes for you to absorb all the sodium from your meal into your system, and how much damage you have in your cardiovascular system and kidneys. If you have existing hypertension and blood vessel disease you might be more susceptible to blood pressure spikes following a high sodium load than healthy individuals. Damaged arteries stiffen, making them less able to accommodate changes in blood flow. High sodium loads can overwhelm kidneys damaged by cardiovascular disease, which then lead to blood pressure spikes.
Is This an Emergency?
If you are experiencing serious medical symptoms, seek emergency treatment immediately.