Many Americans have a taste for salty foods. In fact, 90 percent of Americans eat too much sodium, which can lead to high blood pressure, heart disease and stroke. In the short term, a salty meal can make you feel bloated because your body is retaining water. In this case, drinking more water than normal may help. In the long term, however, only a low-sodium diet will help prevent the detrimental effects of excess sodium.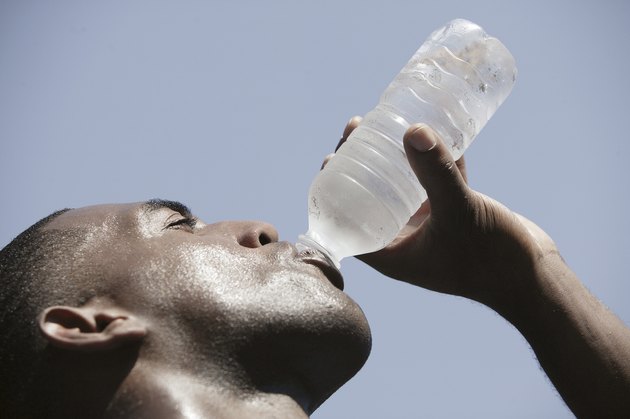 In the Short Term
When you eat a meal high in salt, the level of sodium in your blood rises. Sodium attracts water and holds onto it, which causes an increase in blood volume. This is why you feel bloated and puffy. According to dietitian Monica Reinagel, drinking some extra water after a high-sodium meal may help flush some of the sodium from your body and may also help get rid of some retained water to reduce bloating.
In the Long Term
Just drinking more water, however, is not a solution for a long-term high-sodium diet, says Reinagel. The increased blood volume that results from your body holding onto the excess water is what raises your blood pressure. About one-third of people are sensitive to sodium, according to Jonathan Williams, a physician in the Division of Endocrinology, Diabetes, and Hypertension at Brigham and Women's Hospital; if you are among them, you can develop high blood pressure. In addition to not helping flush sodium from your body, drinking more water may even cause your body to hold onto even more water, exacerbating the situation.
Recommended Sodium Limits
To prevent complications from a high-sodium diet, your best bet is to stay within the recommended daily sodium intake. For healthy adults ages 19 to 50, the adequate intake is set at 1,500 milligrams. This is the estimated amount you need to replace sodium lost through sweat. For older adults and adults with pre-existing conditions, such as high blood pressure, a lower intake is recommended of 1,200 to 1,300 milligrams daily. Healthy adults should not exceed the upper limit of 2,300 milligrams of sodium daily.
Controlling Sodium Intake
Processed foods are the main culprit when it comes to Americans' high sodium intake. Eat fresh foods you prepare yourself without added salt whenever possible, using herbs and spices instead of salt when cooking. At restaurants, ask for your food to be prepared without added salt. You can also help control your sodium levels by increasing your potassium intake. Potassium is another electrolyte mineral that helps regulate sodium. Foods rich in potassium include potatoes, avocados, yogurt, beans, squash and bananas.