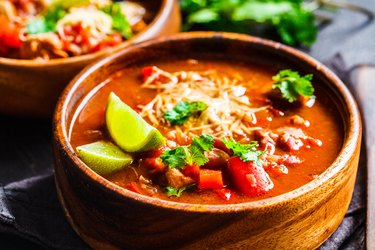 The DASH diet (short for Dietary Approaches to Stop Hypertension) is designed to help lower blood pressure. Interestingly, research has shown that the diet may have much wider-ranging benefits, such as reduced risk of cancer, heart disease and diabetes. And it may help you lose a little weight, too.
While emphasizing lower sodium intake, the DASH diet plan is rich in calcium, potassium, magnesium and fiber. Lean meats, fish and poultry are included, but the plan can also be followed by vegetarians. Give it a try with these tasty DASH diet-friendly recipes.
1. Grilled Banana Split Breakfast Bowl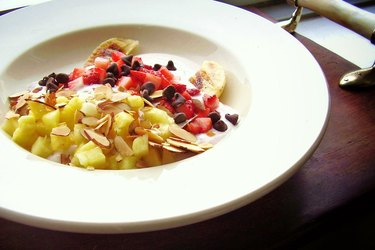 Eating plenty of produce is a key part of the DASH diet. You'll kickstart your day on a healthy note when you opt for a big, scrumptious bowl of fruit for breakfast. And you'll be delighted that this recipe is inspired by dessert: a banana split! Here you'll be quickly grilling (or pan-grilling) the banana for taste intrigue. (You can skip the grilling if you're in a rush.) A naturally flavored fat-free Greek yogurt is the dairy pick of choice, which provides high-quality protein to balance the meal. Plus, there's a little sprinkling of chocolate chips for added flavor and fun, showcasing that chocolate needs to be limited, but not off limits.
2. Herbed Wild Mushroom Oatmeal
If you compare a breakfast bowl of cornflakes to oatmeal, the oatmeal provides more satiety (a feeling of fullness) and may contribute to lower calorie intake at lunchtime, according to a June 2015 study in the ​Annals of Nutrition & Metabolism​. This recipe is a bowl of delightful, filling oatmeal, but with a twist. Rather than adding anything fruity or sugary, this oatmeal is 100 percent savory. It's packed with sauteed wild mushrooms, and fresh rosemary provides an herbal note. The star is the egg on top. You can sprinkle the oatmeal with Romano cheese, if you prefer.
3. Easy Middle Eastern Hummus Wrap
Wraps are an ideal culinary vehicle in which to easily boost vegetable intake. It doesn't get much simpler than tossing ingredients onto a tortilla and wrapping them up for lunch. For this recipe, you'll start with a whole-grain tortilla — just an eight-inch one to assure it can hold the fillings, but without providing excess carbs. Then you'll stuff the wrap with fresh ingredients. Hummus is the main feature, so choose one that you love or make your own. Tomato, cucumber, red onion and baby lettuce give body and bite. Lemon zest or sumac (a Middle Eastern spice) provides cool tang. And the addition of fragrant fresh mint makes this vegetarian wrap seem extra special!
4. Leafy Rotisserie Chicken Salad With Creamy Tarragon Dressing
Have a hankering for a creamy, comforting chicken-salad sandwich? Try this salad, which will satisfy your taste buds while still fitting into the DASH diet plan. One trick to keeping it trim is using a cleverly healthful salad dressing. You'll just toss cannellini or other white beans, white balsamic vinegar, extra-virgin olive oil, garlic and fresh tarragon in a blender and whirl. The beans make it creamy while sneaking extra fiber and protein into your salad. It's a winner!
When it's chilly outside, a bowl of chili can quickly warm you up inside. If you prefer a vegetarian meal, this is it. Luckily, it only requires 20 minutes on the stovetop. It's loaded with vegetable goodness, including onions, jalapenos, kidney beans and canned tomatoes. The latter is rich in lycopene, an antioxidant associated with lower risk of prostate, lung and stomach cancers. So you'll be able to slurp up this robust chili knowing it has benefits beyond just fitting into the DASH diet.
6. Spinach-Stuffed Turkey-Burger Patties
Can't decide whether you'd like a veggie or a turkey burger? You don't have to with this combo. Basically, this starts as a turkey burger, then the addition of a significant amount of fresh baby spinach gives it vegetable-lovers' appeal. It incorporates other nutritious ingredients, such as oats, garlic, lemon juice and an egg, to provide a just-right taste and texture too. Worth noting is that the duo of spinach and egg provides a healthful dose of eye-friendly lutein and zeaxanthin. Serve this bodacious burger as desired, such as on a whole-grain bun with your favorite vegetable toppings and a dab of Dijon.
Drinking a smoothie as a snack can be one of the easiest and tastiest ways to enjoy fruits or vegetables or both. The bevy of produce as well as the natural vivid green color of this recipe indicates it's one of the healthiest. The fruit highlight here is mango, which provides all of the vitamin C you need in a day in one serving of this smoothie. It also features fresh ginger and jalapeno, giving it a nice kick. If you like, whirl up the smoothie in the blender, pour it into a thermos or reusable bottle and take it to go. Just keep it chilled and drink it preferably within a couple of hours.
8. Ricotta and Pomegranate Bruschetta
Bruschetta is traditionally Italian garlic toasts with a tomato-based topping. But nowadays it's common to call any topped appetizer-size toasts "bruschetta." This recipe provides a sweet-and-savory way to enjoy these bread-based bites. Small slices of toasted whole-grain fruit-nut bread (like raisin-pecan) are topped with a lemony, low-fat ricotta cheese, sprinkled generously with fresh pomegranate arils (seeds) and accented with fresh thyme. Pomegranate arils aren't just uniquely chewy and sweet, they're a great source of fiber. All together, this fruity take on bruschetta is a palate-pleasing bite that seems rather luscious. Serve it up at your next party.
9. Chocolate-Mint "Ice Cream"
This technically isn't ice cream. But it's amazing how much it seems like it, considering that it's made with just three simple ingredients: frozen bananas, cocoa powder and peppermint extract. The texture of it is spot on. The full-flavored combination of cocoa and peppermint helps disguise the banana flavor. You're basically getting a potassium-rich fruit serving in one of the most dessert-like ways possible. The bonus is that it's so easy to make — just purée it in a food processor. That's it. Have a supersize scoop of it right after a workout. Your muscles will thank you!
Is this an emergency? If you are experiencing serious medical symptoms, please see the National Library of Medicine's list of signs you need emergency medical attention or call 911.