When you're dealing with diabetes and kidney disease, what you eat matters. The foods you include in your diet not only affect your blood sugar but also the amount of waste products and fluid your kidneys need to process and eliminate. If you're armed when you go to the grocery store with a ready list of foods you can eat, you're already well on your way to better managing your renal diabetic diet. Consult your doctor or dietitian to help you determine your individual nutritional needs and diet plan.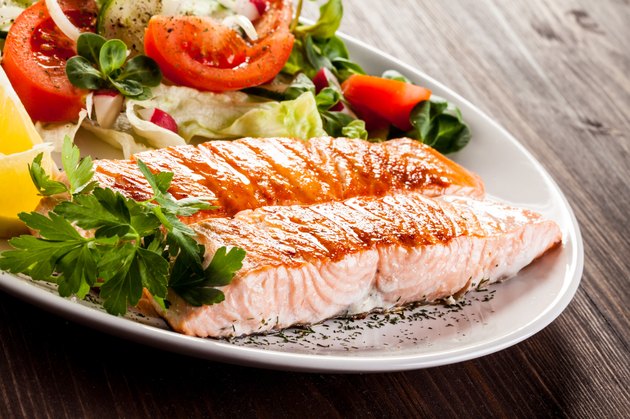 Low-Potassium Fruits and Veggies
Fruits and veggies are a source of potassium. When you have kidney disease, your body has a tough time getting rid of potassium, which can cause levels to build up in your blood, leading to an abnormal heart rate or even death. Loading your cart with mostly low-potassium fruits and veggies is a good start, but you also need to limit the amount you eat each day to keep potassium levels under control. Low-potassium fruits and veggies to add to your grocery list include apples, blueberries, peaches, pears, green beans, carrots, cabbage, eggplant, peppers and zucchini. When buying canned or frozen fruits and veggies, look for varieties without added salt or sugar.
Better Off With Refined Grains and Starches
While whole grains are most often recommended to people with diabetes to help with blood sugar control, whole grains are a source of potassium and phosphorus and may not be a healthy choice when you have kidney disease too. You need to be careful about getting too much phosphorus in your diet. High levels of phosphorus in your blood can lead to weak bones. To keep a lid on potassium and phosphorus intake, add foods such as white bread products, unsweetened refined cereals, flour tortillas, unsalted crackers, pasta or white rice to your grocery list.
Keep Your Protein Simple
Meat, poultry, seafood, eggs and tofu are all examples of protein foods. Before adding any of these foods to your grocery cart, be sure to check the food label to make sure no salt or phosphorus has been added. High intakes of salt cause your body to retain fluids. To eliminate any confusion, it is better to buy minimally processed protein foods, like those you might find freshly wrapped in the butcher or seafood department.
Small Amount of Dairy
Dairy foods are high in potassium and phosphorus, and servings are generally limited to no more than 4 ounces a day when following a renal diabetic diet. To prevent waste, buy smaller portions of your preferred perishable dairy products. Good choices to add to your list when you are following a renal diabetic diet include skim milk, plain or sugar-free yogurt, sugar-free pudding or sugar-free ice cream.
Flavor Your Food Without Salt
Herbs, spices and fat add flavor to your food when you need to limit your salt intake. Fats are a source of calories, so try to limit your daily amount to 1 to 2 tablespoons. Good options when grocery shopping include vegetable oils, salt-free butter, low-fat mayonnaise and no-salt added herbs and spices such as garlic, paprika, rosemary or oregano. Vinegar and lemon juice also add flavor to food without the sodium.