Soda is a popular soft drink that many people consume daily. Soda contains a variety of ingredients that have little nutritional value. Soda does not fit into any of the food groups as being a healthy nutrition choice, and its ingredients may irritate your stomach and digestive system. If you are a soda drinker and begin to develop symptoms, seek the advice of your health-care provider.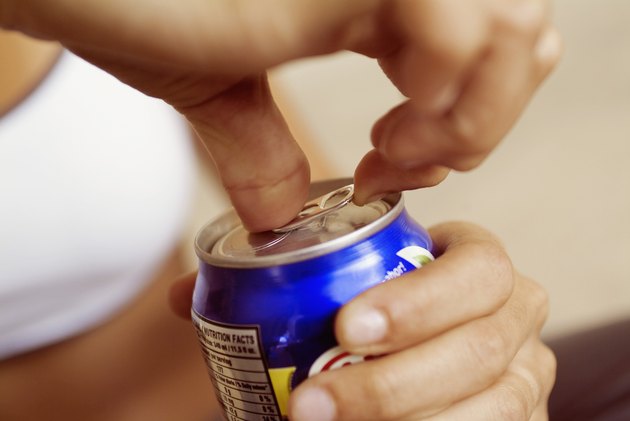 Reflux
In some cases, drinking soda regularly can irritate your stomach and esophagus. When this occurs, it is referred to as reflux or gastroesophageal reflux. This condition happens when your lower esophageal sphincter does not close or opens intermittently – causing acid to rise up your throat, creating a bitter taste in your mouth and a burning in your throat and chest. A main ingredient in many sodas is phosphoric acid. Phosphoric acid can cause acid to rise in the stomach, resulting in acid reflux. Over time, drinking large amounts of soda containing phosphoric acid can damage your stomach and esophageal lining. Long-term damage to this tissue puts you at an increased risk for Barrett's esophagus, strictures, damage to the stomach lining and esophagus and esophageal cancer, explains the National Digestive Diseases Information Clearinghouse.
Peptic Ulcer
A peptic ulcer happens when acid from your stomach erodes parts of your stomach, intestine and esophagus. Ulcers are essentially sores that are inside your body – sores that may bleed and lead to serious health complications. Symptoms include pain in your abdomen, pain that is relieved by taking acid-reducing medicine, vomiting of blood, black stools and unexplained weight loss. Drinking sodas, especially those that contain caffeine, can irritate peptic ulcers, explains the University of Maryland Medical Center. If you have had a problem with any type of ulcer in the past, your physician may recommend you discontinue soda and other soft drinks that contain high amounts of acid.
Weight Gain
Drinking soda on a regular basis can lead to weight gain – especially in the stomach or abdominal area. The Harvard School of Public Health reports that soft drinks are a leading contributor to weight gain around your mid-section. Over time, this type of weight gain may also increase your risk for health conditions such as type 2 diabetes, obesity, heart disease, hypertension and stroke.
Bloating
While bloating is not necessarily a life-threatening condition, it can cause you to be very uncomfortable. Signs of bloating include a feeling of fullness in the abdomen, the urge to pass gas, and an abdomen that is painful or tender to the touch. Eliminating foods and drinks, including sodas that are carbonated, can help you control bloating symptoms, notes Drugs.com. An anti-gas medication that includes simethicone can break up gas bubbles and allow them to pass through the intestines freely.