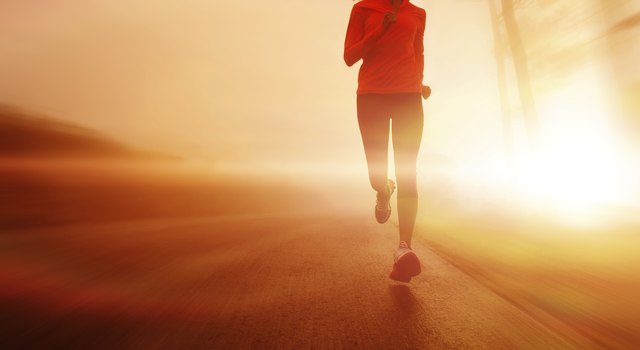 Completing the 26.2 miles of the marathon is an incredible achievement, but the thousands of steps taken during the race makes your body experience several adaptations. One of the most important adaptations is weight loss, as it affects your race performance and recovery time after the race. There are several factors, however, that affects how much weight you lose after running a marathon.
Body Type
Your individual body type is the most important consideration to how much weight you can lose during a marathon. For example, some runners naturally have a faster metabolism than other runners. As a result, they will lose more weight during a marathon. Your gender, age and bodyweight also affect weight loss. Men, for example, typically have more body mass that results in a higher calorie burn and weight loss.
Calorie Burn
To lose 1 pound of fat, you must burn an excess of 3,500 calories. If you average running 8 mph during the marathon and weigh 160 pounds, you burn an average of 979 calories per hour, according to HealthStatus. By the end of the race, you will burn about 3,200 calories, which results in burning nearly 1 pound of body fat. Increasing your running pace will lead to a higher number of calories burned per hour.
Fluid Intake
During the race, you will stop at various water stations to drink water, sports drinks and electrolyte supplements. The amount of fluid intake during the race can change how much weight you lose during the marathon. A general rule of thumb is to consume about 17 to 25 oz. per hour to maintain hydration levels. But drinking too much can lead to minimal weight loss or even weight gain. Not enough water can lead to excessive weight loss that will lead to decreased performance and can potentially lead to medical concerns such as dehydration, cramping or heat stroke.
Environmental Factors
The environmental factors you experience during the marathon can also affect your weight loss. The most common environmental factors experienced during a marathon include extreme heat, humidity or wind. For example, if the external temperature and humidity are high, your internal body temperature is higher that results in an increase in calorie burn and sweat rate that leads to more weight gain. Increasing your core body temperature by 0.5 degrees Celsius increases your basal metabolic rate by about 7 percent.