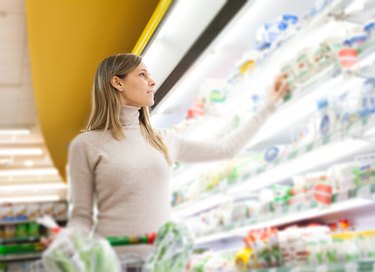 Desserts from the grocery store are rarely healthy choices. Often created to deliberately seduce shoppers into buying them, they can tempt even the healthiest, most well-disciplined eater. If you have a sweet tooth but don't want to eat a dessert with a lot of fat, minimize your temptations by knowing the low-fat options.
Opt for frozen yogurt, which is low in fat. Many brands carry several other flavors in addition to vanilla and chocolate, but be sure to check the nutrition labels to see if the sugar content is high or if the frozen yogurt was made with artificial sweetener. Frozen fruit bars or chocolate pudding bars are two other frozen options. One frozen fruit bar contains 80 calories and less than 1 gram of fat, making it an ideal dessert any day.
Yogurt is low in calories, rich in calcium and contains live bacterial cultures. Opt for Greek yogurt, which has twice the protein and half the sugar as traditional yogurt if you buy the plain variety. Full-fat Greek yogurt can contain 80 percent of your daily allowance for saturated fat, so buy nonfat or low-fat Greek yogurt. Pudding contains little protein, but it does provide you with calcium and makes a healthy dessert. Buy low- or nonfat pudding, or purchase the dry mix and make it with skim milk.
It is possible to find low-fat varieties of cakes and cookies at the grocery store. You should choose angel food cake, white cake or gingerbread over chocolate layer cake, pound cake or yellow layer cakes for a lower fat alternative, according to the National Heart, Lung and Blood Institute. Many name brand dessert companies offer reduced-fat or fat-free cookies. Ginger snaps and fig bars are naturally lower in fat, and graham crackers are a good cookie alternative. If you can't always keep your portion sizes in check, opt for 100-calorie snack packs. They are perfectly portioned, have a stable shelf life and require no utensils, making them one of the easiest grocery store desserts you can find.
Fruit is nature's dessert. It's naturally sweet, juicy and filled with health benefits. Fruit is low in fat, calories and sodium and contains no cholesterol, states the USDA Myplate.gov website. Fruit also boasts potassium, fiber, vitamin C and folate. These nutrients provide you with health benefits, including blood pressure maintenance, promotion of healthy teeth and gums and lowering your risk for high cholesterol and heart disease. Buy fruit in season to keep the cost down. If you're short on time, cut up fruit and divide it into portions at the beginning of the week so you have snacks to grab on your way out the door. Many grocery stores offer pre-cut and pre-sliced fruits, although this is a more expensive option.