There is as much advice about fried chicken as there are chickens to fry. Depending on who you talk to, boiling chicken before frying is either the only way to make this classic Southern dish or a completely unacceptable way. To answer the question for yourself, consider the pros and cons, set a pot to boil and a pan to fry, and start experimenting with your favorite methods.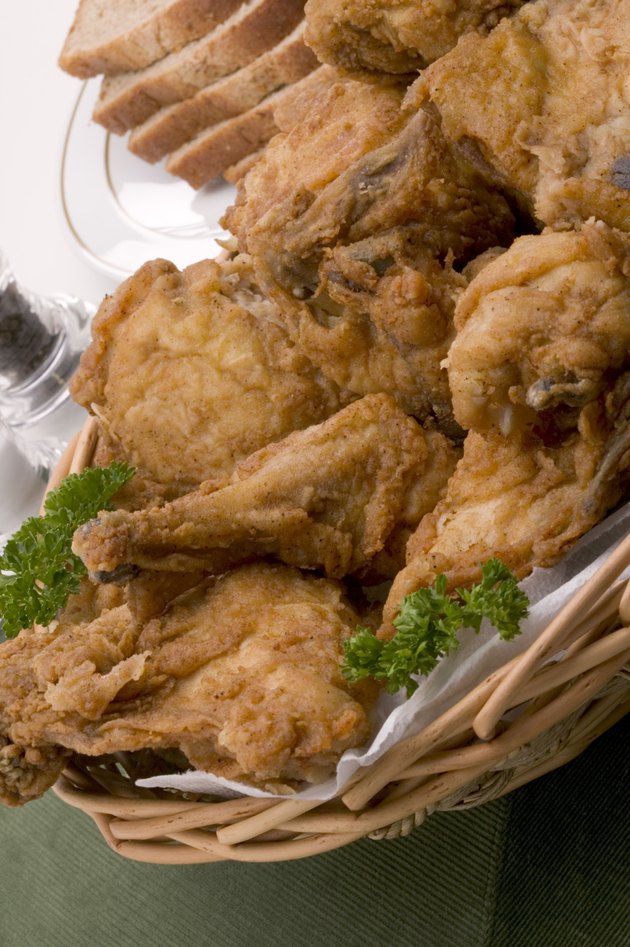 Reasons to Boil
There are several reasons to boil chicken before frying it. Most importantly, it shortens frying time, preventing the outer coating from burning as the inside of the chicken cooks in the hot oil. In addition, this process can actually tenderize the chicken if boiled for the right time at the right temperature. Boiling also imparts flavor to the meat itself, since you can add seasonings to the boiling liquid. Save the leftover liquid and use it in place of chicken stock.
Downsides of Boiling
Boiling fried chicken also has its drawbacks: The main argument is that cooking the chicken twice -- first boiling it, then frying it -- will dry it out, resulting in rubbery meat. If using high heat or plain water, boiling can render the chicken flavorless. Boiling naysayers would also argue that there are other ways to impart flavor and tenderness, such as marinating the chicken in a brine, a saltwater solution consisting of 6 to 9 grams of water for each gram of salt, before frying.
Boiling Smart
As with most successful cooking methods, the key to boiling fried chicken is doing it carefully. Boil the chicken in something richer and more flavorful than water, such as milk or a mixture of water, butter and poultry seasonings. Once the liquid comes to a boil, reduce the heat and cook the chicken pieces at a simmer for about 15 to 20 minutes. You might even parboil, or partially cook, the chicken so as to avoid drying it out.
Alternatives to Boiling
To impart tenderness and flavor, soak the raw chicken in buttermilk or milk for several hours or overnight. Instead of boiling, ensure that the chicken cooks more evenly in the frying pan. Use a candy thermometer to make sure the oil is between 325 and 375 degrees Fahrenheit. As the first side is browning, place a lid on the pot so that the top cooks simultaneously. Cook for less time on the second side and make sure the oil returns to its original temperature before adding the next batch.